Andrew Lansley: MPs will vote before arms go to Syria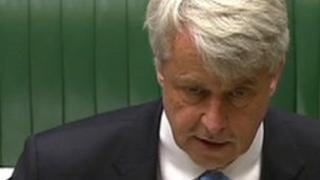 MPs will get a vote on whether the UK should send arms to Syria - before such a move is made, Commons leader Andrew Lansley has confirmed.
It is the clearest commitment from a minister to give MPs a substantive vote on the issue before arms are sent.
David Cameron said on Tuesday the government reserved the right to arm rebels without Commons approval.
Mr Lansley said the PM was right that governments could act unilaterally, but he assured MPs they would have a say.
An estimated 83,000 people have died since fighting began in Syria in early 2011.
More than 80 Conservative MPs have signed a letter calling for a full Commons vote before any decision to take action against the Assad government.
'Swift action'
During business questions in the Commons, Mr Lansley told MPs: "For the avoidance of any doubt, no decision has been made within government for us to arm the Syrian National Coalition.
"Were any such decision to be made we would not implement it unless and until it secured the support of this House on a substantive motion.
"I believe that does meet the concerns of colleagues."
The Conservative MP and Commons leader said it was "correct" that the PM had said that governments should be able to take "any necessary action" if national security was at stake.
But he added: "This in no sense qualifies the commitment I have given to the House in relation to the question of arms and Syria."
Mr Cameron, addressing MPs on Wednesday on the G8 summit, said government reserved the right to arm rebels in Syria without holding a vote in the House of Commons.
He said it was essential to keep the "ability to take action very swiftly".
'Democratic'
The situation in Syria was discussed at the G8 meeting of industrialised nations on Monday and Tuesday in Northern Ireland.
The G8 summit at Lough Erne, County Fermanagh, ended with a communique stating that the conflict in Syria should end "as soon as possible", with peace talks in Geneva.
Resistance from President Putin meant there was no explicit reference to ending the rule of President Assad.
Instead, the document said a transitional government should be formed "by mutual consent" among the warring sides.
It also included a commitment to keeping the troubled country's military and security forces in tact to avoid a power vacuum should Assad go.