Government 'beats Whitehall savings target by £2bn'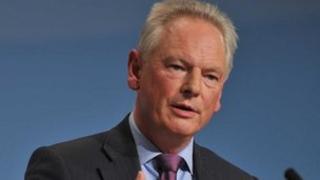 The government says it has achieved savings of £10bn in the past financial year, a quarter more than its target.
Cabinet Office minister Francis Maude said the coalition was taking "radical decisions" to streamline Whitehall.
The savings, including reducing the number of civil servants and putting more services online, would equate to £600 per household, he added.
But Labour said Mr Maude had form on "over-claiming and under-delivering often to the tune of tens of millions".
The Efficiency and Reform Group, run by the Cabinet Office and the Treasury, said it had made the savings by cutting civil service costs.
This had included reforming pensions, cutting personnel, centralising the procurement of goods and services, selling empty buildings and reviewing large-scale projects.
'Popular'
The Conservative-Liberal Democrat coalition had set itself a £8bn savings target after the last general election, Mr Maude said
He added: "This government is taking radical decisions to make Whitehall leaner and more efficient so Britain can compete in the global race.
"Civil servants across government are changing the ways they work and we are on the way to managing our finances like the best-run FTSE 100 businesses."
He added: "These are popular savings which support Britain's deficit reduction and encourage growth."
Chief Secretary to the Treasury Danny Alexander said: "This is a good result and a testament to the hard work being done by departments into making government as lean as possible.
"There is a great deal more to do before government is as efficient as it needs to be - that's why in the spending round we will find another £5bn of savings as a major contribution to reducing the deficit in 2015/16."
But Jon Trickett MP, Labour's shadow minister for the Cabinet Office, said: "Maude has got form on over-claiming and under-delivering, often to the tune of tens of millions of pounds, stating big savings that on closer inspection fall apart."
The Whitehall changes are part of the government's wider programme of spending cuts.
Last week, Chancellor George Osborne announced an agreement with seven Whitehall departments on savings he wants made in 2015.
He said he had found 20% of the £11.5bn he wants to cut spending by in the year from April 2015.
But Labour said the government's "failure on growth and jobs" meant the deficit was now set to be more than £90bn in 2015.