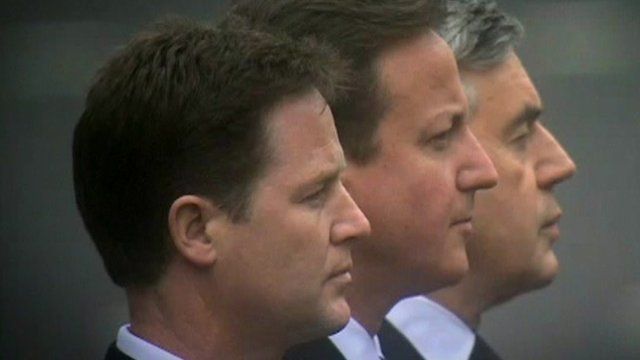 2010 general election: Tory, Labour and Lib Dem talks
21 May 2013 Last updated at 11:06 BST
The days which followed the 2010 general election saw tense and frantic negotiations between the three main parties as they fought for the right to govern Britain.
That resulted in the Lib Dem-Tory coalition that is still in power three years later - but key figures have since revealed that it was not a foregone conclusion.
Using interviews and footage from BBC Political Editor Nick Robinson's Five Days That Changed Britain documentary, David Thompson looked at how the drama played out, and how talks may have led to a different outcome.
MORE FROM THE DAILY & SUNDAY POLITICS
Watch more clips of films and interviews; 'like' us on our Facebook page; watch the Sunday Interviews with Andrew Neil, follow us on Twitter or watch programmes from the last seven days on BBC iPlayer