Clegg leadership plot claims 'ridiculous' says Danny Alexander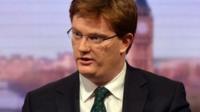 Claims that Deputy PM Nick Clegg could face a Lib Dem leadership challenge from Vince Cable are "ridiculous", Lib Dem minister Danny Alexander has said.
The chief secretary to the Treasury told the BBC that such reports were "a distraction from [the Tories'] own political problems".
He "absolutely" expected the coalition to survive until the 2015 election.
Conservative Michael Gove has suggested Mr Clegg was opposing childcare reforms to shore up his own leadership.
The education secretary had claimed there were efforts to "destabilise" Mr Clegg to make way for the business secretary, Mr Cable.
Coalition 'frustrations'
Mr Alexander was responding to suggestions on BBC One's Sunday Politics from Andrew Neil that Downing Street privately expected the Lib Dems to do badly in next year's European elections and anticipated a leadership challenge from Mr Cable.
Asked about the rumours, Mr Alexander said: "Of course not, it's completely ridiculous. It won't happen. It's a distraction from their own political problems."
He added: "We came together in 2010 as two parties to sort out the major economic mess that was left by the previous Labour government.
"Some people at the time, in 2010, said it would be difficult to keep a coalition party going because one party may not be able to keep going and be disciplined.
"Let me reassure you and your viewers that Liberal Democrats will make sure that this government continues to be strong and stable enough to continue to take the difficult decisions in the many years to come."
In an interview with Total Politics magazine, Prime Minister David Cameron said the coalition had its "frustrations" and disagreements and sometimes he could not take action in the areas he wanted to.
But he said it was "remarkable is how radical we have been in making really important changes in our country".
He said there was still "important work to do" and the best way to "get things done" was to continue with the coalition.
"But if that wasn't the case then we'd have to face the new circumstances in whatever way we should," he added.
A Downing Street spokesman said later: "The coalition will continue until 2015."