Michael Gove backs green field development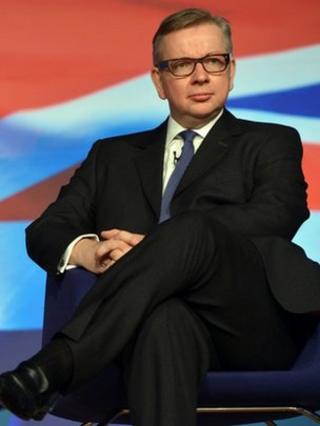 Michael Gove has backed plans to build more homes on green field sites - provided they are things of "beauty".
The government was forced to water down its planning reforms after fierce opposition from conservation groups.
The education secretary said opponents of new development were against aspiration and social mobility.
Mr Gove, who has been the subject of leadership speculation, made the comments in a wide-ranging speech to Lady Thatcher's favourite think tank.
He said anyone "who believes in social mobility, in aspiration, in pro-family policies, in thrift and in freedom" would be delighted with the government's planning policy.
'Ravish the eye'
The reforms, introduced by planning minister Nick Boles, aimed to simplify planning rules and introduce a bias for sustainable development.
He has vowed to protect green belt and areas of outstanding natural beauty - but said open land or "green field" sites will have to be brought in to play to help meet the government's target of 270,000 homes for each of the next five years.
Mr Gove said he believed new developments should be things of "grace and beauty, to ravish the eye and lift up the soul."
Moving on to the economy, he said Britain's financial services industry needed defending against "clumsy and ill thought out interventions" from the European Union, which is currently developing a tax on financial transactions some think will damage the City.
The speech was delivered at the annual Sir Keith Joseph Memorial Lecture, held by the Centre for Policy Studies, which is a think-tank closely associated with the late Baroness Thatcher.
Leadership speculation
Mr Gove has been the subject of speculation about his future Tory leadership ambitions after telling BBC News on Sunday that he would vote to leave the EU if a referendum was held now.
In his speech, he praised David Cameron's Europe policy, and backed him to lead a Conservative government after the next election.
He said "No other prime minister has vetoed an EU treaty. No other prime minister has been so effective at putting Britain's interests first."
Earlier this week Mr Gove praised the ability of former Labour prime minister Tony Blair to win political arguments.
He added: "Tony Blair will decide who his heir is but I am a great fan."
Writing on the Conservative Home website, former Tory MP Paul Goodman said: "There is even a case for saying that the Education Secretary, with his brains, energy and fearlessness, is emerging as the real Conservative leader."
Speaking on LBC Radio, Deputy Prime Minister Nick Clegg said Mr Gove "knows a thing or two about leadership ambitions".