Liam Fox tells Tories: Don't panic about UKIP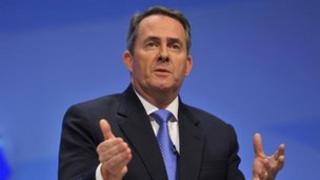 Former Defence Secretary Liam Fox has said the Conservatives "don't need to panic about UKIP" and should try to avoid "internal strife" on Europe.
And Education Secretary Michael Gove has said the party should not "succumb to a counsel of despair".
Eurosceptic UKIP's success in the local elections has renewed pressure on David Cameron to hold an "in-out" referendum.
Mr Cameron wants to negotiate the return of some powers to Britain before a promised referendum by 2017.
Mr Fox told Parliament's House magazine the debate should focus on what sort of "looser relationship" they want.
The success of the UK Independence Party, which campaigns for Britain's exit from the EU, in English local elections this month has prompted Eurosceptic Conservative backbenchers to increase pressure for a referendum on the issue.
EU vote
Mr Cameron has promised one will be held by the end of 2017, should the Conservatives win the next general election outright, but only after he has attempted to negotiate the return of some powers to the UK.
In an effort to ease tensions this week he published a draft bill paving the way for such a referendum, but it was not enough to dissuade 116 Conservative MPs from backing a motion "regretting" that one was not included in the government's plans for the year ahead, the Queen's Speech.
Mr Fox, who resigned as defence secretary in October 2011, criticised that amendment by Eurosceptic MPs as "procedural wrangling which doesn't actually help us move towards our manifesto position but does cause a lot of internal strife".
"The debate we should be having at the moment is what sort of renegotiation we want and what sort of looser relationship we want."
Mr Fox, who describes himself as "an unreconstructed, free market, Thatcherite, Unionist Eurosceptic Atlanticist", said the Conservatives could win outright victory at the 2015 general election - and Europe would be one of the big dividing lines between the parties.
He added: "We don't need to panic about UKIP and I think that we have a sophisticated electorate in this country who are more than capable in using their votes differently in local elections, European elections and general elections and the era when people would vote for the same party in every kind of election with blind loyalty is behind us.
"I know plenty of Conservatives who would vote UKIP in a European election but never dream of voting anything than Conservative in a general election because the cost in a general election they perceive as being much greater if they get it wrong."
He said UKIP had picked up protest votes that might previously have gone to the Lib Dems.
"I also think it's quite interesting to look where they did well and if Europe was the reason behind their success. l expected them to do well in the south west of England but they didn't, in fact ... we got some of our best results in the country and they got some of their worst.
"Where they picked up strongly was Essex, Norfolk , Lincolnshire, areas that have been the most effected by economic migration from Europe and I don't it's too difficult to draw a conclusion from that."
His comments were echoed by Education Secretary Michael Gove, who last week said he would vote to leave the European Union if a referendum was held now.
'Gesture politics'
Asked if the situation was "desperate" for his party on Thursday, Mr Gove said: "I think it's important that we don't succumb to a counsel of despair.
"I think it's important that we look in context at those many groups who - you suggest that there are some people who would never vote Conservative - there are many, many people who would never vote UKIP and we've got to make sure that they can feel at home in a Conservative Party which is modernising and inclusive."
The draft referendum bill - dismissed by UKIP leader Nigel Farage as "gesture politics" - will now be taken forward by Conservative backbencher James Wharton, who topped a ballot of MPs allowed to introduce their own legislation.
The Liberal Democrats would not allow it to be introduced as government legislation - arguing that should focus on the big issues like the economy.
Lib Dem Business Secretary Vince Cable said the coalition had already spent time debating a referendum and had brought forward legislation guaranteeing a referendum in the event of a significant shift in powers from the UK to Brussels in the European Union Bill.
He criticised the "endless civil war" within the Conservative Party over Europe and said it was doing "serious damage" by putting off potential investors in the UK.