Noisy cockerels and tattoos: Brits' bizarre requests for consular help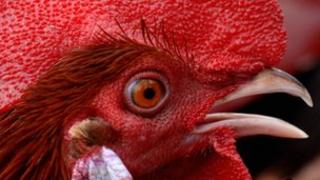 Foreign Office staff around the world are used to dealing with Britons who have fallen ill or been arrested - but what about noisy cockerels?
Silencing a crowing chicken was among the more unusual requests faced by consular staff last year.
Britons also asked for help with supplying Olympic tickets - and one man in Rome asked staff to to translate a phrase for a tattoo he wanted.
The Foreign Office handled more than a million consular inquiries in 2012/13.
Some 52,135 British nationals in difficulty abroad were helped, according to an annual report.
Watching football
The most common problems are arrests, hospitalisations, deaths and assaults.
But there are also a growing number of lifestyle inquiries, such as where to watch football, according to the Foreign Office report.
In Tel Aviv, Israel, a woman asked consular staff to order her husband to get fit and eat healthily so that they could have children.
In Kuala Lumpur, Malaysia, staff were asked if they could help pay to send a couple's children to an international school.
In Stockholm, Sweden, a man asked consular staff to check the credentials of a woman he had met online.
In February 2011, The Foreign Office set up a contact centre in Malaga, southern Spain, to handle the volume of non-consular inquiries received by British embassies and consulates in southern Europe.
Since its launch staff have handled 131,211 calls, 39% of which have been lifestyle inquiries.
'Real problems'
Steve Jones, the centre's head, said: "Our aim is to help staff at posts concentrate on what is important but some of the inquiries we received from British nationals last year were bizarre to say the least.
"For example, one customer contacted us to ask if we could provide the name of the watch that the Royal Navy sailors wore between the years 1942-1955."
Consular affairs minister Mark Simmonds said: "FO staff help many thousands of British nationals facing serious difficulties around the world every year.
"We also receive over a million inquiries each year, so it is important that people understand what we can and cannot do to support them when they are abroad.
"We are not in a position to help people make travel arrangements or social plans, but we do help those who face real problems abroad.
"These can include victims of crime, bereaved families who have lost a loved one abroad or Britons who have been arrested or detained.
"We aim to continue to focus on supporting those who really need our help in the coming year."