'Underused' Commons nursery should close, says MP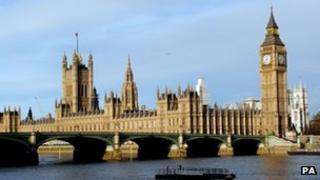 The Commons nursery should increase its fees or close to save the taxpayer money, an MP has said.
The nursery ran at a loss of more than £100,000 in 2012-13 and Labour MP Roger Godsiff has tabled a motion saying it is a drain on the public purse.
He says the nursery is used by just 24 children, only six full-time.
Speaker John Bercow said the nursery was "long overdue" when it opened in 2010 as part of efforts to make Parliament more family-friendly.
He said at the time: "Our Parliament has sadly been behind the times in providing practical support to parents who work here and in sending a message to would-be MPs that they can represent their communities and be a carer too."
The Commons nursery opened on the site of the old Bellamy's Bar and Astor Suite in 2010 - but the cost of converting the facilities, around £500,000, and the loss of Bellamy's drew criticism.
Catering for children aged three months to five years, the nursery has 40 places for children of MPs and peers and parliamentary staff. It charges £295 for five days for under-twos and £270 for older children. It is open from 08:00-18:00 and also allows evening care for an extra charge - to cater for when Parliament sits late.
But Mr Godsiff argues it is losing money when other nurseries and Sure Start centres are having to close and is underused with only 24 filled places, of which six are full-time. The Commons says up to another 12 children are expected to join this year.
Projected loss
His motion states that "this continual drain on public monies is no longer justifiable" and that "the nursery should either increase its fees to break even and to reduce the accumulated deficit, or close and allow the facility to be put to more well-used and income-generating purposes".
He further "notes that the nursery is still running at a projected loss of £100,000 in this financial year" and points out it replaced an "extremely popular and well-used" facility.
It is not the first time he has tabled a motion about the nursery - an early day motion in December 2010 suggested the nursery should be opened to more children outside of Parliament but failed to gather any support.
In the financial year 2012-13, the nursery collected £179,000 in fees but ran up operating costs of £280,452.
The closure of Bellamy's Bar annoyed some in 2010 - Conservative MP Christopher Chope presented a petition signed by 470 Commons staff at the time, pointing out that £480,000 had recently been spent on refurbishing the rooms.
But the government argued that the revenue it generated was "insufficient to cover purchasing costs of the goods sold and the cost of staff directly employed in that venue" and its closure would actually represent a net saving.