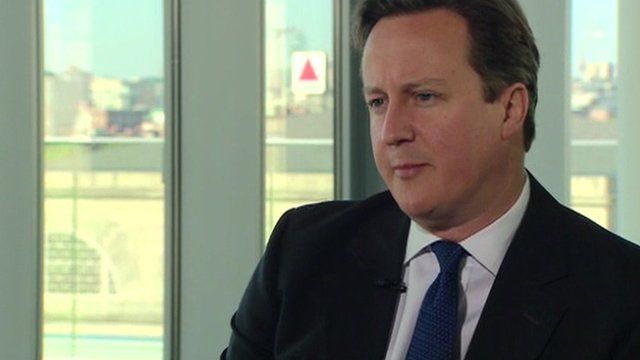 EU referendum: PM 'profoundly relaxed' about Commons vote
14 May 2013 Last updated at 17:25 BST
David Cameron is "profoundly relaxed" as MPs prepare to vote on amending the Queen's Speech over Europe policy.
Many Tories are unhappy plans for an "in-out" vote were not mentioned in the speech, and will try to amend it in a Commons debate on Wednesday.
There is little chance of this succeeding, as the Liberal Democrats, Labour and pro-European Tories oppose it, but a significant vote in favour would be an embarrassment for the prime minister.
On Tuesday, Mr Cameron - who is on a trip to the US - told the BBC's James Landale: "That [an in-out vote] is a change in our policy... but it's the right thing to do".
He added: "People will see the Conservative Party offering this very clear, very compelling choice in the national interest."