Nigel Evans duties 'on hold' during rape inquiry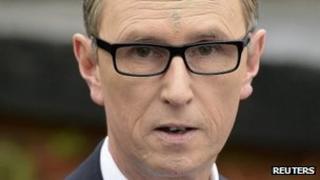 Deputy House of Commons Speaker Nigel Evans will not resume his duties in the chamber while police continue to investigate allegations against him.
Mr Evans denies allegations he raped a man and sexually assaulted another.
He had asked to be excused from chairing the Queen's Speech debates, which end on Wednesday.
But the Tory MP and Speaker John Bercow have now agreed Mr Evans will "not resume chairing duties while police investigations are ongoing".
A House of Commons spokesman confirmed the pair met on 7 May, and that the Speaker's two other deputies, Lindsay Hoyle and Dawn Primarolo, also supported the decision.
Mr Evans, 55, was questioned on 4 May about the alleged attacks on two men between July 2009 and March 2013 in Pendleton, Lancashire, and bailed until 19 June.
He said last week that he was continuing work for his Ribble Valley constituency - where he has been an MP since 1992 - which had shown him "fantastic support".
Mr Evans, who came out as gay in 2010, was elected as one of three Commons deputy speakers three years ago.
In more than two decades in Parliament, the Swansea-born MP has held some senior posts in the party.
From 1999 to 2001, he was vice-chairman of the Conservative Party. Then, when Iain Duncan Smith became party leader in 2001, he was promoted to shadow Welsh secretary - a post he held for two years.
An outspoken right-wing MP and known Eurosceptic, Mr Evans was one of the first MPs to start campaigning against the prospect of a single currency. He has also regularly campaigned against drugs.