Rifkind: EU referendum amendment backers 'foolish'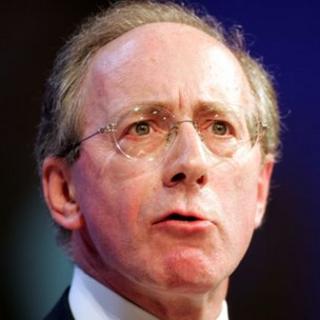 Former Foreign Secretary Sir Malcolm Rifkind has criticised Conservative MPs who have tabled an amendment calling for an EU referendum.
The amendment expresses regret that the Queen's Speech did not mention plans for a referendum on UK EU membership.
Sir Malcolm told the BBC the "foolish" move risked splitting the Tories, would harm their election chances, and would not achieve anything.
If the Commons Speaker selects it, the amendment will be debated on Wednesday.
Two Conservative MPs, John Baron and Peter Bone, have tabled the amendment to the motion welcoming the Queen's Speech.
Speaking on BBC Radio 4's Today programme, Sir Malcolm said doing this showed "poor judgement".
He said that getting Conservative MPs to vote against the government's Queen's Speech was "putting the prime minister in an impossible position".
Party divided
He told the BBC: "Sometimes it is necessary to split your party on a great issue of principle but to split your party on an issue of tactics seems to me pretty odd.
"This amendment isn't going to get carried, so that all those supporting it will have achieved - they will have split their own party, they will have cast questions over the prime minister's authority, and indirectly, unintentionally, they will be helping the Labour Party's prospects at the next general election.
"That is not just foolish, it is quite contrary to all the political instincts of a responsible political party that wants to hold and retain power after the next general election."
"It's not like Maastricht, when MPs voted against their party because it was a case of ratifying a treaty. "
The prime minister's position is that he will re-negotiate the terms of Britain's membership, and then put the result of this renegotiation to the public in an in-out referendum to be held after the next general election, if the party is re-elected.
Some Conservative MPs argue that if the prime minister is to renegotiate Britain's membership he should hold a 'mandate referendum', which would ask the British people if they agreed with this course of action. This would have to be held before any negotiations could begin.
Some others want the actual in-out referendum to be held before the next election, or at least a bill proposing the referendum to be put before MPs during the current parliament.
Because the motion tabled this week only expresses regret that no referendum was mentioned in the Queen's Speech, MPs from a variety of positions would be able to support the amendment.
The amendment is unlikely to be passed because the majority of Lib Dem and Labour MPs will vote against it.
Government ministers have been given permission to abstain from the vote, but they cannot support the motion.
Passing the amendment would not mean a referendum is held, but it would increase the pressure on the government regarding Europe.