Mandelson attacks Ed Miliband's 'One Nation' vision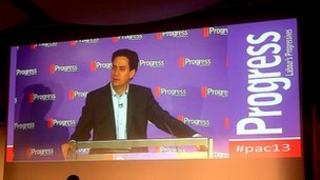 Lord Mandelson has attacked Ed Miliband's attempt to rebrand Labour as the "One Nation" party.
Asked if it was a sufficiently robust platform to win the next election, the Labour peer said: "Well, patently not."
Speaking at the annual conference of New Labour think tank Progress, he said Labour had to show voters that it could make tough economic decisions to win back votes from the Tories.
Mr Miliband used "One Nation" 14 times in his speech to the conference.
Unveiled last year at Labour's annual conference, the slogan is meant to draw a line under the New Labour era and steal the centre ground of British politics from moderate Conservatives.
'New economic plan'
Mr Miliband used his speech at the Progress conference in central London to set out what it means.
"It is based on this idea: wealth creation does not come simply from a few at the top," he told the audience of Labour activists.
He said it was not enough for Labour just to demonstrate economic credibility; it also had to show it had a plan to change the country.
"One Nation Labour is the modernising force in the Labour Party and in the country today.
"It means a new economic plan. A plan to turn Britain around, when there is less money around."
Examples of One Nation policies included more apprenticeships, a banking system "that serves the real economy" and industry that focused on "long-term wealth creation" rather than a "fast buck," said the Labour leader.
But some activists at the Progress conference questioned whether One Nation meant anything to ordinary voters.
'Working class'
Lord Mandelson, one of the architects of Labour's last major rebranding, said: "You have to be more than a slogan and more than a label to get people to vote for you. So much is obvious."
He said Labour had to show it was willing to make "tough" spending decisions, otherwise ex-Tory voters "will find it very difficult to vote Labour".
Lord Mandelson also attacked Mr Miliband's claim that Labour had made it easier for people from working class backgrounds to be selected as candidates, saying it was wrong to conflate working class candidates with trade union officials.
He said "too many" selections for European of Westminster parliament candidates were being put in the hands of "one union at worst, a couple of unions at best, orchestrated by a cabal of NEC members."
Shadow education minister Stephen Twigg backed a call by former transport secretary Lord Adonis for Labour to prepare for a coalition government by opening behind-the-scenes talks with the Lib Dems, at the same time as campaigning hard for outright victory.
This idea was also given short shrift by Lord Mandelson, who said: "I'm afraid I have a rather simple view of the next election - it's that we should set out to win."