Des Lynam endorses UKIP and rewrites Send in the Clowns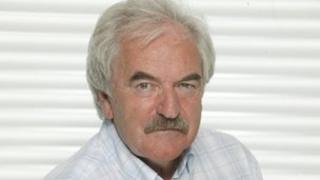 Veteran TV presenter Des Lynam is the latest celebrity to publicly back the UK Independence Party.
Lynam, famed for his unruffled style on camera, said he voted for the Eurosceptic party in last week's local elections.
He has also rewritten the lyrics of Stephen Sondheim's Send in the Clowns in a tongue-in-cheek retort to Ken Clarke's description of UKIP members.
UKIP averaged 25% of the vote and won more than 140 seats in the polls.
"I was delighted to cast my vote for [UKIP leader] Nigel Farage's team in Sussex, where I live," said Lynam.
"I feel they have something to offer the country as a whole, and Sussex."
Mr Farage said: "I am delighted to welcome Des's support in these elections."
He promised that his party would sing Mr Lynam's humorous version of Send in the Clowns at its South East conference on 8 June.
The opening lines of Lynam's lyrics read: "We used to be rich,/ Now we are not,/ But here at last there's a chance,/ To stop the rot,/ Send in the clowns."
UKIP has recruited a number of celebrity supporters over the years, including actress Joan Collins, TV chef Rustie Lee, broadcaster John Gaunt and TV presenter Robert Kilroy-Silk, who briefly represented the party in the European Parliament.