County leaders to share the load over budget pressures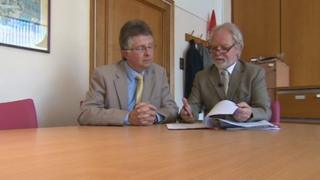 On the Trent Embankment outside Nottinghamshire's County Hall, people were making the most of the warm spring sunshine after the bank holiday break.
Inside County Hall, there was no time to relax. Furniture was being shifted and old policy documents shredded. Political power was switching.
It was a similar scene at Derbyshire's County Hall. Labour has ended four years of Conservative control in both counties and is now taking over the reins of power.
In Nottinghamshire, its new leader Councillor Alan Rhodes has already had an early briefing from the council's chief executive Mick Burrows.
A new squeeze on budgets is looming. Savings of £132m are said to be required to balance the books over the next few years. The authority spends £500m each year on providing local services including libraries, fixing pot holes and social care.
With schools, the total spend increases to £1.4bn.
Common ground
"So we'll be bringing options and proposals to the new administration," the chief executive explained.
Alan Rhodes has already taken one significant early step. There's to be a freeze on spending and external recruitment.
"That's prior to opening the books and seeing exactly where the financial pressures are for the county council," he told me.
"We need an accurate assessment to know where we are financially."
It's not just council budgets that'll be tight; Labour's overall majority in Nottinghamshire is just one seat.
What's fascinating now is the tone of the language being used by all the region's county council leaders.
I detect very little triumphalism. The political talk is of reaching consensus and finding common ground.
Even Leicestershire's county council leader Nick Rushton, a Conservative, says he wants a collegiate approach.
'Big Tent' politics is back in vogue. He's extended the hand of co-operation to the two new Labour leaders, Alan Rhodes and Derbyshire's Anne Western.
"If they want to do business with me, I want to do business with them," he said.
"Especially on sharing the cost of back-room services, so we can save money and protect front-line services."
That perhaps is a sign of some really tough political decisions that'll have to be made in the months to come. Chancellor George Osborne has already told the councils to find more budget savings. Next month, he's expected to announce a further spending squeeze.
"We've looked very closely at the pressures facing families in these difficult times," said Anne Western.
"But money for local councils is not fairly distributed in this country. The government shifted money away from the Midlands and the north to the south. That's an argument that all of us council leaders will be taking to government."
Remember one thing - regardless of the political changes in the county council elections - local government still faces a 30% cut in its spending power.
That means more belt-tightening. It may also encourage new thinking and co-operation between our councils to share the load.