Deputy Speaker Nigel Evans 'overwhelmed' by support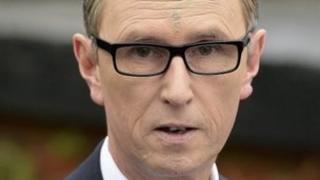 Deputy House of Commons Speaker Nigel Evans has said he is "overwhelmed" by the support he has received since being arrested on suspicion of rape and sexual assault.
The Conservative MP, who denies any wrongdoing, said he had gone through the "worst two days of my life", but added that he was back at work.
Mr Evans said he would be in the Commons for Wednesday Queen's Speech.
He was questioned by Lancashire police on Saturday.
Mr Evans, facing allegations he raped a man and sexually assaulted another, has asked to be excused from chairing debates on the Queen's Speech.
'Fantastic support'
Making a statement on College Green, near Parliament, he said: "I've been in work since half past seven this morning getting on with looking at many of the emails that have come in, not just from constituents but from throughout the world, giving me support and sympathy for what I'm alleged to have done.
"I'm overwhelmed with the number of colleagues who have come up to me as well who are basically, you know MPs don't shake hands, well I have never shaken so many MPs' hands as I have today, and giving me support, which is really helping me to get through this."
Mr Evans said he was continuing work for his Ribble Valley constituency, which had shown him "fantastic support" over the "worst two days of my life".
He said he was having "just a few days off chair duty" but would continue having his regular meetings with Commons Speaker John Bercow.
Mr Evans' solicitor has already said the MP does not intend to quit as deputy speaker or as an MP.
The 55-year-old was questioned on Saturday about the alleged attacks on two men between July 2009 and March 2013 in Pendleton, Lancashire, and bailed until June.
Mr Evans, MP for Ribble Valley since 1992 - who came out as gay in 2010 - was elected as one of three Commons deputy speakers three years ago.