Nick Clegg: The 'simple' appeal of UKIP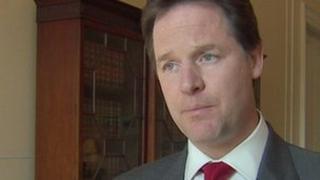 The success of the UK Independence Party in the local elections is "understandable", Lib Dem leader Nick Clegg has said.
But he warned that the party offered only "simple answers... to deal with this country's complex problems".
UKIP gained 136 county councillors in England's local elections, with the Lib Dems losing 106.
"We've done well in some areas and not so well in others," the deputy PM said.
Of UKIP, Mr Clegg said: "I don't think they do have answers to the dilemmas we face as a country.
"I believe that the Liberal Democrats do, that our message that we need to build a stronger economy and do so as fairly as possible, enabling everyone to get on in life is the right message for the future," he told BBC news.
'Uneven'
He argued that his party was "on a journey from a party of protest to a party of government".
"The pattern that has emerged in the results overnight shows very clearly that where we have MPs, where we have Liberal Democrats out on the doorstep, setting out our side of the story, communicating our message, we're holding our own and in some areas making gains.
"The message that only the Liberal Democrats can be relied on to build a stronger economy and a fairer society is a message which, where we communicate successfully, gains support for us."
The Liberal Democrat candidate in the South Shields parliamentary by-election, held to replace outgoing Labour MP David Miliband, came in seventh place, winning fewer votes than the BNP and two independent candidates.
"By-elections always are as uneven as this," Mr Clegg commented.
"Clearly we're not anywhere near being in a position in South Shields to compete seriously in that contest."
Lib Dem Business Secretary Vince Cable added that the local election results were "obviously very disappointing".
Voters had deserted his party and turned to UKIP to protest about the sluggish economy, Mr Cable claimed.
"Unfortunately this is part of the price you pay for being in government and I think the Conservatives have had an even worse night than we did, but, nonetheless, it's not great," he said.
He added that the UKIP rise had to be taken seriously, likening their surge to that seen in recent Italian elections - saying both showed the appeal of the "humorous right" over "nasty fascists".