Green Party leader Natalie Bennett sees end of three-party system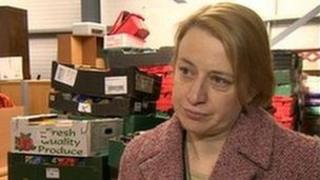 The leader of the Green Party, Natalie Bennett, has said the traditional three-party system is breaking up.
People will not vote for a single party all their lives, she told the BBC.
Ms Bennett, whose party gained five more councillors, saidt hey aimed to reach beyond their "heartland areas" and spread out around the country.
The Greens gained seats in Essex and Kent, but lost three councillors in Norfolk, an area in which they had hoped to do well.
Ms Bennett said that despite opposition to an incinerator in Norfolk winning them "strong support", local issues were responsible for the loss of the green councillors there.
In an interview for the BBCs Daily Politics show on Wednesday, she had said she was confident that the Greens would still have more councillors - across all local authorities, and not just county councils - than the UK Independence Party after these elections.
But after a strong showing from UKIP in the county council elections - which gained 139 more councillors - the Greens have lost their fourth position in terms of councillor number.
In response to the results Ms Bennett said: "What we're seeing is a break-up of the traditional two- or three-party system in Britain.
"Fewer and fewer people regard themselves as a lifetime Tory or a lifetime Labour or a lifetime Lib Dem - if there are any still around.
"People are really looking at the policies, looking at the ideas and voting that way. And of course that's very much going to throw into question our first-past-the-post electoral system."