South Shields: Labour and UKIP celebrate while coalition partners lick wounds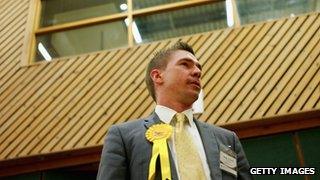 A Labour win was never in doubt in South Shields.
It's one of the safest seats in the country and has been held by the party since 1935.
All bar one of the previous MPs have been members of the cabinet. David Miliband held one of the great offices of state - Foreign Secretary - so was he was always going to be a difficult act to follow.
But Emma Lewell-Buck made history becoming the constituency's first female MP.
It was a very comfortable win for Labour who secured over 50% of the vote.
But the majority was significantly reduced from David Miliband's majority of more than 11,000 in 2010 to 6,500.
As predicted, UKIP repeated their recent by-election success and their candidate Richard Elvin came second with a 24% share of the vote.
It was short of the 30% being predicted earlier in the evening but the party's Deputy Leader Paul Nuttall, who was at the count, described it as a sensational result.
'Bloody nose'
He said it was proof that UKIP is no longer just a protest party and is broadening its appeal across the country, not just the south of England.
It was a bad night for the Conservatives. They performed as expected and were pushed into third place with their percentage of the vote almost halved.
But it was much worse for their coalition partners who had the worst night - the Liberal Democrats finished seventh.
Their candidate Hugh Annand polled just 352 votes - less than twice the number of votes cast for the Official Monster Raving Looney Party.
It wasn't even enough to save the Lib Dem's deposit.
The parties in government will comfort themselves that it's mid-term - people wanted to give them a bloody nose.
But as one UKIP member said to me - "if this is a protest vote it's a bloody big protest".