PM urges Afghan interpreters to stay after British troops leave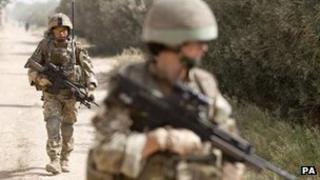 Locals who have worked as interpreters for British troops should, if possible, remain in Afghanistan after UK forces have left, David Cameron has said.
There have been calls for the UK to offer asylum to those whose lives might be in danger from Taliban reprisals.
The prime minister said Afghans should be allowed to apply to settle in the UK "in extremis" but he hoped many would stay to help with the country's future.
Support for those who remain must be "much more generous", he added.
Lib Dem peer Lord Ashdown has said the UK has a "debt of honour" to the 450 interpreters who have worked alongside British troops since 2001.
The debate about their future came as three British soldiers were killed after their armoured vehicle was hit by a roadside bomb in Helmand.
Once foreign combat troops leave Afghanistan at the end of 2014, there are fears of reprisals against Afghans who have co-operated with international forces against the Taliban over the past decade.
Asked about the future of the interpreters, Mr Cameron said the UK would not "turn their backs" on them and there should be a "fair system" for assessing the risks attached to remaining in Afghanistan and the case for coming to the UK.
'Commitment'
But he he told Radio 4's World at One programme: "I do think when we think of all that we have spent and all the cost in money and human lives we have put into Afghanistan, we should do everything we can to encourage talented Afghans to stay in their country and contribute to it."
Mr Cameron disclosed he had asked UK officials to reconsider the package of support available to Afghans who want to stay, to ensure it was "really generous".
This, he added, could enable "educated, talented Afghans who care about the future of their country...have an opportunity to go on working in Afghanistan and really go on building their country.
"Because in the end it is in our interests they build up Afghanistan and it is in their interests."
Asylum requests are currently considered on a case-by-case basis and campaigners have said Afghan interpreters should be given the same rights as those who did a similar job for UK forces in Iraq. They were offered the right either to resettle in Britain or a one-off financial payment.
Lord Ashdown said it should be left up to the interpreters to decide where their future lay, suggesting that to do otherwise would be an "act of dishonour".
Those choosing to stay must be able to do so "with confidence" about their safety, he told the same programme.
"Leave the choice to them. If they have a choice to take an offer from the government about staying - which should be as encouraging as it should be - but to leave if they believe that despite that offer their lives are in danger, we must allow the choice to lie with them.
"The truth is these interpreters put their lives at the service of our nation alongside our troops and we should be prepared to honour that commitment."