Local elections 2013: Cameron backs UKIP scrutiny but shies away from insults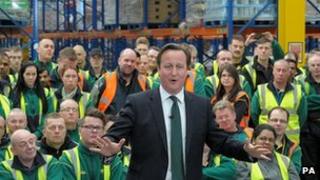 David Cameron has said he "welcomes" scrutiny of UKIP but refuses to add his voice to Tory attacks on the party.
Senior Tories have described UKIP as "clowns" and a "fringe party" in a war of words ahead of Thursday's local elections.
Mr Cameron said it was right that the party's candidates have had to "explain themselves" but he declined to comment on his colleagues' criticisms.
UKIP leader Nigel Farage said "insults" by Tories boosted his party's chances.
The two men were speaking as campaigning for council, mayoral and one by-election in England - and one council in Wales - nears its end, with much attention on what impact UKIP might have on the results.
Tory peer Lord Tebbit has said he thinks many Tory voters might switch to UKIP in protest at David Cameron's government, but Foreign Secretary William Hague dismissed UKIP as a "fringe party" and said the real choice was between Conservative and Labour.
'Free country'
Asked about the threat posed by UKIP, Mr Cameron - who in 2006 dismissed the party as "fruitcakes, loonies and closet racists" - said their policies and candidates had come under unprecedented scrutiny.
"That is a welcome part of the political debate," he told BBC Radio 4's The World at One. "I welcome the scrutiny of other parties. That is only fair in a democracy. Where they come up short, they have to explain themselves."
UKIP has increased its number of candidates in the elections and is targeting voters disillusioned with the big three parties at Westminster.
Senior Conservatives have been split over how to deal with their challenge, Cabinet minister Ken Clarke calling them a "collection of clowns", an intervention which Lord Tebbit described as a "singularly ill-judged rant" in his Daily Telegraph blog.
"Many former Conservative voters are so fed up with the Cameron coalition that they will turn to UKIP as the party which comes closest to a traditional Conservative agenda," added the former Tory Party chairman.
Mr Farage claimed his party was benefiting from the focus on it in recent days.
"Every time we get an insult from a senior Tory, it helps us," he said during a campaign trip to Cambridgeshire. "When you abuse us, what you're doing is abusing the vast majority of the British public who want us to be a free independent country that controls its own borders."
'Frustrated'
The Conservatives are braced for losses on Thursday, with the 240-plus county council and unitary authority seats they gained in 2009, the last time the seats were contested, potentially looking the most vulnerable.
Speaking to the BBC, the prime minister urged voters to focus on which councils delivered the best value for money, stressing more Conservative-run councils had taken advantage of Whitehall subsidies to freeze council tax in the past three years than those controlled by other parties.
But asked about the third of councils - including Tory run Oxfordshire Council in his constituency - which have actually raised council tax, he replied: "It is their decision. I believe in localism. The money was there for a freeze if they wanted to take it up...it is a matter for them."
The prime minister said he believed people understood the government had had to take difficult decisions on issues like pay and welfare in the past three years but their impact was not always welcome and some voters felt "frustrated".
As well as council polls, a by-election will also be held for the Westminster seat of South Shields, vacated by Labour's David Miliband while elections will also be held for mayors in Doncaster and North Tyneside.
Labour has declined to say how it expects to do on Thursday, but experts have said it will be looking to retake control of councils such as Derbyshire and make inroads across the south of England at the very least.
'New phenomenon'
Interviewed on the Today programme, Labour's deputy leader Harriet Harman confirmed that under the party's economic plans there would have to be a temporary rise in borrowing to fund a cut in VAT. In the long term, she said the measures would stimulate growth.
"We haven't been inconsistent in our messages... the government have cut too far and too fast" she added.
She said the party "will review... [the] universality of pensioners' benefits" such as winter fuel payments and free bus passes, amid calls for better-off pensioners to be stripped of them to save cash.
Lib Dem leader Nick Clegg has warned against drawing too many conclusions from Thursday's polls for the outcome of the next general election.
"What I am saying is that these things come and go in politics and I've seen them in my time come and go," he told Channel 4 News.
"UKIP beat us in 2009 (European elections). A year later we won 24% of the vote in the general election and UKIP were nowhere."
The Green Party of England and Wales are also hoping to make gains in county council contests where they are fielding candidates. Their leader Natalie Bennett told the BBC that her party would end up with more councillors than UKIP.