Local elections 2013: Vote Lib Dem to avoid extremes, says Clegg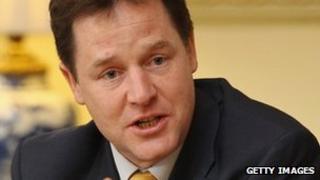 Liberal Democrat leader Nick Clegg has accused the Conservatives of abandoning "compassion" and denounced Labour as a party of "protest".
The deputy prime minister accused both parties of moving to political "extremes", adding that the Lib Dems would not be "dragged" left or right.
Ahead of Thursday's local elections in England, he said his aim was to make life fairer for all.
Polls will be held for 27 county councils and seven unitary authorities.
Nearly 2,500 seats are available and results will be studied as a gauge of public opinion two years before the next general election.
'Anchor'
In an article for the Lib Dem Voice blog, Mr Clegg accused Labour and the Conservatives of going "backwards".
"The Liberal Democrats are different. We will not be dragged one way or another," he said. "And as the country continues to navigate the most profound economic storm in living memory, we will be the anchor Britain needs: a strong and pragmatic check on both extremes."
Criticising his coalition government partner, Mr Clegg said the Conservatives under David Cameron had stopped trying to "detoxify" the party by "hugging hoodies".
"The Tories are pulling to the right in an attempt to appease their base," he wrote.
"Compassionate conservatism has been sidelined... Despite millions of ordinary families feeling the pinch, the Conservatives resist making the tax and welfare systems fairer still - ruling out introducing a Mansion Tax or looking again at the benefits paid to very wealthy, even multi-millionaire, pensioners."
'Doing our duty'
Mr Clegg also seized on recent criticisms of Labour leader Ed Miliband by former Prime Minister Tony Blair, saying: "By offering anger rather than hope, Labour are steadily becoming a party of protest."
He said it was time for the Liberal Democrats to reclaim the "space" left by Labour, by promoting a "radical, liberal view of the world, unencumbered by the traditional ideologies of left and right".
He added: "Our task now is to reach out to the millions of people who also shun the extremes."
But Mr Clegg later told the BBC's political editor Nick Robinson he would consider serving alongside Labour leader Ed Miliband in government in the event of another Hung Parliament after the next election.
"If the public say the only way in which this country can be governed in a sensible, centre-ground stable way would be as a coalition, of different combinations as now, but still involving Lib Dems, I would, just as last time - the Lib Dems would just as last time - do our duty to the country."
His party's goal, he added, was to "get this country through these difficult times to create a stronger economy, but to do so as fairly as possible".