Duncan Smith 'relaxed' over well-off pensioner paybacks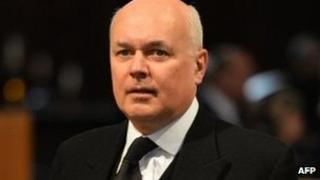 Iain Duncan Smith has said he is "relaxed" about whether well-off pensioners should pay back some of their state benefits.
The work and pensions secretary was quoted at the weekend as saying he would "encourage" them to do so.
But he told the BBC his words had been "twisted" and added that some pensioners were already paying back money via a government website.
This had been set up because people had "asked" for it, Mr Duncan Smith added.
Already several charities urge pensioners with large disposable incomes to donate money received via benefits, such as the winter fuel payment, to good causes.
Asked by the Sunday Telegraph whether he thought people in this financial position should return such income to the state, Mr Duncan Smith said he would "encourage" them to "hand it back".
After this, cabinet minister Ken Clarke questioned whether there was "a system" for doing this.
But the Department for Work and Pensions has since said pensioners can return unwanted winter fuel payments via post, with a covering letter, or by calling its benefits hotline.
Helpline
Speaking on BBC Radio 4's Today programme, Mr Duncan Smith clarified his comment, saying: "It was in answer to a question, which was, 'What if they don't need it or don't want it?'
"My answer is, if they don't want it or don't need it, there has always been on the website a helpline."
The state had already "been taking money from people who want to do that anyway", he added, saying: "We did that on the basis of people who asked us to do that."
Among the benefits is the winter fuel allowance of between £100 and £300 tax-free to help people who have reached the state pension age with heating bills.
A free TV licence, worth £145.50 for a colour set, is provided for people aged 75 or over, while those aged over 60 can get free NHS prescriptions.
'Up to them'
Eligible older people are entitled to free off-peak travel on local buses anywhere in England when they reach the state pension age. Schemes in Scotland, Wales and Northern Ireland allow people aged over 60 to apply for free bus travel.
Mr Duncan Smith said: "I think that it's right for them to keep whatever they want to keep. It's up to them."
He added: "Honestly, you shouldn't try and twist what I'm saying. I said categorically I neither want them to give it back or keep it. If they are eligible for it it's wholly their money to take as they wish.
"It's right to give them this money. Pensioners are vulnerable and they need to know they have a security of payment over a long period of time."
Labour leader Ed Miliband said there was independent evidence that the winter fuel payment, which his party introduced while in power, had been effective in alleviating fuel poverty.
However, he told BBC Radio 4's World at One that Labour would look at the provision for well-off pensioners as part of its policy review.