Travels in search of local election fever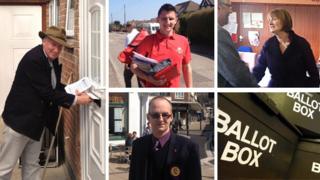 Can Labour win in the south? Will UKIP scupper the Tories? Does anyone outside Westminster care? We went looking for answers at two very different English local election contests.
How long has Dover been in need of regeneration?
"Since 1945."
Dover has heard a lot of politicians' promises over the years but, locals like to complain, nothing ever seems to get done.
The town may be famous for its white cliffs and 19th Century fort (now an immigration detention centre) but it is also home to the "last bomb site in Europe", according to one man.
Whatever the case, the old town looks splendid in the warm spring sunshine, as I begin my quest to test the political mood ahead of Thursday's local elections.
Old soldiers decked out in their medals for a service to commemorate a World War One raid on Zeebrugge rub shoulders with German tourists from a giant cruise ship anchored in the harbour.
No one seems to know there is an election on.
Even Harriet Harman, Labour's deputy leader, is keeping a relatively low profile, meeting charity workers and volunteers at a drop-in centre for the elderly, with no TV cameras or national journalists in tow.
'One party state'
Labour is pushing hard for votes in Dover. It is seen as the kind of southern English town the party has to win back from the Conservatives if Ed Miliband is to stand a chance of becoming the next prime minister.
"One of the things Ed Miliband is very determined to do is not just win the election by piling up support in Scotland and Wales but actually make sure he represents the whole of England," says Ms Harman.
"That means making sure Labour has got its roots into Kent and Sussex, as well as in Durham and Manchester."
Not that Labour is about to seize control of Kent County Council.
Apart from a brief period in the mid-1990s when it went to No Overall Control, Kent has been solidly Tory for decades. There are currently two Labour members, seven Lib Dems, one UKIP, an independent - and 72 Conservatives.
Labour's main aim in Kent, according to Ms Harman, is to form an effective opposition to the Conservatives and prevent it and other counties in the south of England becoming a "one party state".
It is campaigning against cuts to services and the county council's use of outside consultants to decide where the axe will fall.
Labour had one of the worst nights in its history when the seats up for grabs across England were last contested in 2009.
It is expected to win back ground in the North and Midlands.
But, judging from the reaction of some former Labour voters in Dover, it still has much work to do in the South.
"Labour hasn't got any policies. They don't seem to me to have anything to say about the economy or the benefit system. They are just opposing everything," says Tom Wilson, a 64-year-old retired lorry driver.
'Idyllic'
What about Ed Miliband?
"He doesn't switch me on at all. I don't see him as a strong leader."
A firefighter, who did not want to give his name, said he was furious about the closure of a village fire station and other cuts to services, but is not planning to vote next Thursday.
"I've lost interest really. They are all the same."
Tory candidate in Dover North, Steve Mannion, an amiable Aussie in a wide-brimmed hat, says he is confident the Conservative vote will hold up on the back of promises to prevent council tax rises.
Seventy five miles west of Dover, David Cameron's party is facing a different kind of contest.
Like many of the so-called shire counties that go to the polls on Thursday the political map in Surrey is deepest Tory blue.
Reigate, a prosperous commuter town, has few of the worries about jobs and industrial decline that afflict Dover.
Conservative County Councillor Zully Grant-Duff is momentarily at a loss when asked to say what gets voters angry in this part of the world. The state of the roads, she decides. And house prices.
Mrs Grant-Duff is something of a rarity - a Conservative politician born in Argentina. A computer science professor, and keen admirer of Baroness Thatcher, she is positively evangelical about her adopted home town.
"It is quite idyllic here," she says, gazing out across the playing fields and gardens of Priory Park.
Youngest candidate
The Lib Dems are the main opposition to the Conservatives in Surrey, with 13 seats to the Tories' 59. Labour currently has just one member.
The party won the Reigate town ward in the 2009 county elections, but that ward has now been abolished in boundary changes.
Lib Dem candidate William Dyer, an 18-year-old A-Level student, is optimistic about his chances of beating Mrs Grant-Duff - defying the conventional wisdom, and last year's local election results, that suggest coalition with the Tories at Westminster has set the party back decades.
Mr Dyer, who is taking a break from a history revision session to talk to the BBC, says the Lib Dems have been picking up victories in council by-elections from the Tories and Labour around the country.
"When we get out on the doorstep and tell people what we are going to do, what we have done in government, they start to listen. They start to like what we are saying."
He is attacking the Conservatives on several fronts - promising to sort out problems with school places, the roads and the youth service.
Like the Labour candidates in Dover, he is hoping UKIP will do him a favour by siphoning off Tory votes.
'Mourning'
Having previously struggled to make an impression in local polls, UKIP is throwing a lot at this contest, in an effort to capitalise on their current surge in the opinion polls.
They have hastily recruited more than 1,700 candidates, not all of whom, in the typically frank assessment of party leader Nigel Farage, have been as rigorously vetted as they might have been.
No one - least of all their rivals - knows how well UKIP are going to do, or even how best to challenge them.
"We have target seats, but we are not revealing where they are," says Joe Fox, UKIP's treasurer in Reigate, as he enjoys a lunchtime curry in a local pub.
The RNIB care worker, who is standing in neighbouring Redhill, insists the party is taking votes from across the political spectrum and is not just "the Tory Party in mourning".
"The main purpose of our existence is not to kick the Tories. It is to restore sovereignty, independence and democracy to our island home."
But, he adds with a smile that would send a shiver down Tory strategists' spine, "you can have some fun along the way though can't you?"
In Dover, UKIP candidate Peter Myers, a former Labour councillor, and ex-immigration officer, even jokingly describes himself as "socialist UKIP", arguing that the party is "for everyone".
'Genuine alternative'
But it is disgruntled Tory supporters who seem most tempted to jump ship.
"I want to send them a message. Cameron made a mistake when he went into this joint government. I think he was too weak," says retired Lloyds underwriter Arthur Elson, on a break from shopping in Reigate town centre.
"I don't like some of the things he has come out with, on gay marriages and so forth. He should be concentrating on the economy."
But he adds: "I wonder how many of us will return at the general election."
The Green Party did far better than UKIP at these elections in 2009, winning 17 county council seats to UKIP's seven.
But they are fielding fewer candidates than the Eurosceptic party and have been struggling to make their voice heard above the din surrounding UKIP.
The party has a toe-hold in the Reigate area and has hopes of gaining their first seats on Surrey County Council.
"It is a Tory heartland, but not everybody thinks that money should control everything," says the party's candidate Bryn Truscott, a freelance software engineer.
The district councillor says the Greens are capable of capitalising on the anti-politics mood just as much as UKIP and has the advantage of having a "coherent strategy behind the Green Party which I don't think there is behind UKIP".
"It's very hard for people to judge between the three main parties these days and I think the Greens, as people learn about us, are a genuine alternative."
To make sure I had not just lucked out in my search for election fever, I sought the views of BBC colleagues who have criss-crossed the country over the past few days.
The message back was that the picture seems to vary - but even in key marginal areas of Staffordshire and Lancashire there were apparently few outward signs of campaigns, and very, very few posters.
In political correspondent Chris Mason's words, whilst some people stopped on the street were aware of what was happening, others "had only a vague idea that a leaflet or two might have dropped through the door alongside those advertising the local pizzeria".
My view is that many voters at these local elections seem to be looking for an alternative to something.
Whether that restless mood will set off a political earthquake on Thursday, or just a resigned shrug, remains to be seen.