Margaret Thatcher: How will history judge her?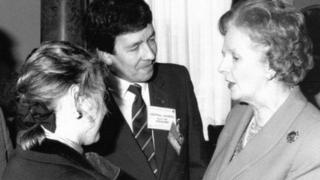 Now that the funeral of Margaret Thatcher is over, the journalists can hand over to the historians.
But why does she remain such a hugely divisive figure, 23 years after she left Downing Street?
I felt it outside St Paul's Cathedral as the funeral procession made its way from Fleet Street.
While I was interviewing some of the guests invited to attend the funeral service, protesters were shouting anti-Thatcher slogans. That, in turn, provoked Thatcher admirers in the crowd to cheer and applaud her.
If you want to know why Margaret Thatcher still polarises opinions, you need to start in the East Midlands.
There's the Grantham upbringing that shaped her political mindset. Also the East Midlands coalfield and the year-long Miners' Strike of 1984.
Saviour of a nation... or wrecker of communities?
'Important era'
Her admirers will tell you she saved the country from union militancy.
"Her government did make a difference when the issues were really big ones," Rushcliffe MP Ken Clarke told me. He served in her cabinet.
"Historically, the Thatcher era was very important."
It may be 28 years since the end of the Miners' Strike, but Margaret Thatcher is still reviled in many coalfield areas for shutting pits and destroying communities.
"The effect of what she did is still with us," said former Nottinghamshire NUM miner Brian Walker.
"We're determined not to forget what she and her government did. Our communities have never recovered."
The East Midlands coalfield was divided over whether to support the NUM strike without a pithead ballot.
In many Nottinghamshire and Derbyshire mining communities, there was an atmosphere of civil war, as I recall from my time reporting on the strike.
Many of the NUM miners and their families have never forgiven Margaret Thatcher for describing them as "the enemy within".
Britain is a very different country now to the one she started to govern in 1979.
Council house sales, financial deregulation, privatisation and recapturing the Falklands: They epitomise what we now call Thatcherism.
"She was the last prime minister to repel foreign invaders on British territory. For that, she deserves the nation's thanks," said Nicky Morgan, the MP for Loughborough, and another VIP waiting in the queue outside St Paul's.
Also waiting was a Conservative Party insider who knew her well. Graham Smith is now the party's organiser for Nottingham. But during Margaret Thatcher's election winning heyday, he helped plan her campaign tactics and constituency visits.
"My memory is of a really great women," Mr Smith told me.
"I had the pleasure of working with her and to appreciate and understand what she wanted to achieve."
So what will historians make of the Thatcher era? Journalists are said to write the first draft of history.
But maybe Grantham's current MP Nick Boles has pointed the historians in one direction.
He told me: "Margaret Thatcher is - whatever your views about her - one of the three or four most significant women in Britain's history."
So that's Boadicea, Elizabeth 1, Emmeline Pankhurst and Margaret Thatcher... what do you think?