Nick Clegg denies government 'deception' over midwife numbers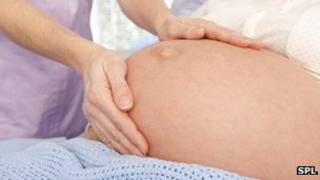 Nick Clegg has denied the government is "deceiving" the public over measures to address the shortage of midwives in the NHS in England.
Before the 2010 general election, David Cameron promised to increase the number of midwives by 3,000.
The government has created 5,000 training places but critics say this has not been translated into jobs.
Figures compiled by the Royal College of Midwives show the number of jobs has increased by just 145 since 2010.
On live radio, Mr Clegg was accused by Susie, a midwifery student at King's College London, of deception.
"We know there's a chronic shortage of midwives in this country and your government keeps saying we're investing in 5,000 more student midwife places," she said.
"But wouldn't you say it's true you're largely deceiving the public, the taxpayer and us student midwives because trusts don't have the money to employ us?"
'More money'
Susie told the deputy prime minister on his weekly Call Clegg programme, on LBC, that there were 45 students training with her but they calculated there were jobs in nearby trusts for only 20 of them.
Mr Clegg said: "I don't think we're deceiving anyone.
"What we're saying is we are putting more money into making sure there are more midwives like yourselves who are properly qualified to work in the NHS."
But he conceded that some NHS trusts did not have enough money to employ more midwives.
"What I totally accept is that different trusts have got different financial pressures," he said.
"If you want to work in an area where a trust is under particular financial pressures, that's going to feel different to another trust which has managed its affairs well over the years and has actually got money to spend on the things we all want, including more midwives."
The State of Maternity Services report, published by the Royal College of Midwives, says there were the equivalent of 20,790 full-time NHS midwives in England in 2010.
In 2012, there were the equivalent of 20,935 full-time midwives.
The College estimates the shortfall in the number of midwives required is still 5,000.