Pay towards Chequers running costs, David Cameron urged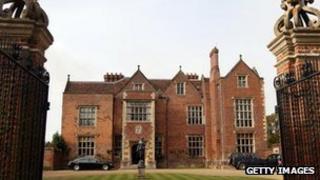 Three Labour MPs have urged David Cameron to show "compassion" to those hit by housing benefit cuts by helping with the running costs of Chequers.
David Winnick, Michael Meacher and Kelvin Hopkins visited the PM's official country residence to call for him to repay taxpayers for funding it.
Their letter to Mr Cameron follows a cut in payments to people in social housing who have a spare room.
The government says this will save money and encourage work.
The change to housing benefit, which came into effect on Monday, is described as ending a "spare room subsidy" by ministers but as introducing a "bedroom tax" by Labour.
'Compassion'
An estimated 660,000 social housing tenants deemed to have a spare room are losing an average of £14 a week in housing benefit.
In their letter, the MPs say: "We have come to protest at the unjust and cruelly vindictive bedroom tax which you have imposed on 660,000 households in publicly rented housing across the country, up to two-thirds of which are estimated to include a disabled member.
"You, on the other hand, are provided by the state for your family's use with a second home set in 1,000 acres with 10 bedrooms. We would ask you to show as much compassion towards Britain's poorest as you have been shown generosity.
"Do you not therefore think in these circumstances it would be reasonable, given that most of your 10 bedrooms will remain unoccupied for most of the time, that you make an equally proportionate contribution out of your own income towards the costs of the state in the administration of Chequers?"
The government says it is essential to cut the welfare bill and encourage people into work, rather than a life on benefits.
Chequers, in Buckinghamshire, was bequeathed to the nation in 1917.