Tony Blair: I'd have done better than Brown in 2010 election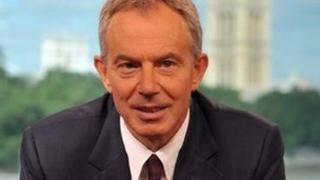 Tony Blair has said he would have given David Cameron more of "a run for his money" than Gordon Brown at the 2010 election.
The former prime minister stood down in 2007, with successor Mr Brown taking Labour to its lowest share of the vote in almost 30 years.
Mr Blair told Bloomberg Markets magazine the contest "would have been tighter" with him in charge.
But he stopped short of saying Labour would have won.
Mr Blair's 10 years in Downing Street were characterised by bitter behind-the-scenes rows between him and his chancellor, Mr Brown, over the Labour succession.
Mr Brown is reported to have put pressure on Mr Blair to step down as Labour leader and prime minister but the two men have always avoided criticising each other in public.
The May 2010 general election, which came amid concerns over the economy and the size of the budget deficit, saw Labour take 29% of the vote, its lowest share since 1983.
'Making a difference'
The party lost 91 seats, but Mr Cameron's Conservatives failed to gain enough MPs to form a Commons majority and instead formed a coalition with the Liberal Democrats.
Mr Blair told Bloomberg Markets: "Frankly, if I'd had a fourth election, I would have given Cameron a run for his money. I'm not saying I would have won, but it would have been tighter than it was."
Mr Blair now works as a UN Middle East peace envoy.
He has also built up a multi-million pound business advising banks and foreign governments, which helps to fund a network of charitable foundations devoted to promoting inter-faith dialogue and other causes.
"It genuinely is about making a difference in the world and not about making money," Mr Blair said of his work.
"The motivation is not the accumulation of personal wealth. If I'd wanted to do that, I could do it a lot simpler with a lot less time."
He revealed his long-held plans to leave a legacy after his time in office: "I wanted to create a different type of post-prime ministerial career altogether. From the outset, I had a very clear view of what I wanted to do. I wanted to create my own set of institutions."
Mr Blair said he had given more than £5m to charities since 2008 and that he was "increasingly meeting the core costs of the foundations myself through the money that I make".
The former prime minister has faced criticism for advising President Nursultan Nazarbayev of Kazakhstan, whose government has been accused of human rights abuses.
"I don't dismiss the human rights stuff at all," Mr Blair said.
"These are points we make. There's a whole new generation of administrators there who are reformers, and we're working with them."
Mr Blair was touted for president of the European Council, a post created in 2009, but this eventually went to Belgian Herman Van Rompuy.
"If the European job had been offered to me, I would have taken it," Mr Blair said. "But it wasn't."