David Miliband: Reaction to MP's decision to quit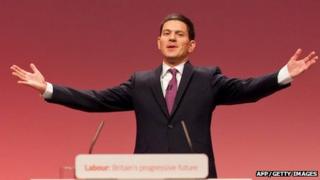 Former Foreign Secretary David Miliband is expected to say later he is stepping down as a Labour MP - how have fellow politicians and commentators reacted to the decision?
David Miliband is set to quit UK politics for a role with an aid charity in New York, the BBC has learned.
There has been no word from Mr Miliband, however the Daily Mirror says he is to step down later on Wednesday.
How have fellow and former politicians, and commentators, reacted to the news? And do they think it is the end of his political career?
Labour politicians:
Ed Balls, shadow chancellor, tweeted: "To David Miliband and Louise in NY, the best of luck - friends and close colleagues for over 20 years, we'll all miss him in Parliament."
Jack Straw, MP for Blackburn and a former Labour foreign secretary, said: "It's not the end of his political life at all. And he may feel after a period running the International Rescue Committee in New York - a very big international organisation with I think 12,000 employees - that... he wants to come back into British politics and I think that he'll be welcomed back into the Labour movement."
John Woodcock, MP for Barrow and Furness, tweeted: "David will be brilliant over the water as he always is. He's an inspiration; know he'll be back in fight one day but for tonight am just sad."
Leicester East MP and chairman of the Home Affairs Select Committee, Keith Vaz, tweeted: "Stunned by the news about David Miliband. A huge loss to British politics. The best and the brightest leaving the country."
Shadow energy secretary Caroline Flint tweeted: "Happy for David Miliband and his family. Here's to International Rescue. Thunderbirds are go!"
David Lammy, MP for Tottenham, tweeted: "David Miliband a big loss to PLP [Parliamentary Labour Party]. Will miss him. Very loyal friend. The right decision however for him Louise and his two boys. Great new job."
Toby Perkins, MP for Chesterfield, tweeted: "Sad to hear that David Miliband is quitting as an MP. Will be a big loss to British and Labour politics."
Politicians from other parties:
Liberal Democrat president Tim Farron said: "It's a big loss for Parliament. David was a big thinker, great politician and a lovely man."
Conservative Party chairman Grant Shapps said: "This is a surprising decision from David Miliband. He has contributed a great deal to British politics and we wish him well."
Nicky Morgan, Conservative MP for Loughborough, tweeted: "When bright people like David Miliband opt for life outside politics you know all is not well with our political system. Big loss for Labour."
Former politicians:
Former cabinet colleague Lord Mandelson said: "He just combined policy, good judgment, real concern, a knowledge of economics and an ability to tie things together. That is how he will be remembered. And that is why he why he will be a loss. But never say never. I wouldn't say goodbye to David Miliband forever in British politics."
Former Conservative MP Louise Mensch, who was criticised by some for quitting her Corby seat and moving to New York for family reasons last year, tweeted: "I do very much look forward to all those critical of mid-term resignations for any cause, even family, being consistent tomorrow."
Commentators:
John Rentoul, chief political commentator for The Independent on Sunday, wrote: "He could possibly have been shadow chancellor when his brother was elected leader, but couldn't face it. Now, even if he could face it, he knows it is not going to be offered. Ed M has reconciled himself to fighting the election with Balls at his side... If David M cannot be leader, he should be shadow chancellor, but it is a measure of Labour's problem that he won't be."
Political editor of the New Statesman, Rafael Behr, wrote: "Whatever happens, it has been clear for some time that the next act in the Labour drama was being written without a starring role for David Miliband and he knew it. Since he had no lines in the script, no rousing soliloquies to deliver, he has sensibly chosen to leave the stage."
Kevin Maguire, associate editor of the Daily Mirror, which broke the story, said: "He's probably done the right thing for himself [and] he's probably done the right thing for his brother. And as one Labour front bencher said to me earlier, he feels actually a bit sorry because he's also acted out of a touch of love - not something you hear a lot about in the Labour Party - but a touch of love because he does think it'll be better for Ed if he's not there as part of a soap opera... I think there is no way back for him now, he knows that."
Economist and writer Will Hutton said: "He'll move on. I think it's most unlikely that he'll want to go through the whole thing of trying to find a seat again... I think this is it, I think David is moving on, he's going to build a new life and to give his career a public dimension in things he really cares about. He can't do it within the Labour Party. If this is the way he thinks it's best to do it you know, great, good luck to him."
Alastair Campbell, former director of communications, tweeted: "David Miliband will make big contribution in new US role. Sad for UK politics but understandable and takes away sibling story distraction."
Dan Hodges, a friend of Mr Miliband's and former advisor to the Labour Party, who now writes for the Daily Telegraph, said: "I think the mood music, if you like, over the last few months was that he was contemplating a return. He had given a number of high profile speeches so the feeling was that he maybe was preparing to come back. I think basically the reason he's going is because he doesn't actually feel there's going to be a vacancy."
BBC political editor Nick Robinson, said: "The truth is for many, many months now he has searched for a life outside politics, appears to have failed to find such a satisfying life, and colleagues tried to urge him to return to frontline politics and started to discuss the kind of roles he could take under his brother. He has clearly concluded he does not want to return to the fray, he doesn't want to serve under his brother in opposition or in government which is a serious blow to his brother, and disappointment to members of the party."
Times columnist Janice Turner tweeted: "So David Miliband is standing down as an MP two weeks after he told me he was definitely standing in 2015. #politicians."
Damian Thompson, editor of Telegraph blogs, wrote: "He lacked - or withheld - that ounce of charm that could have tipped the leadership election his way... When he was foreign secretary he swept past Labour colleagues like a renaissance prince. It's why he never wore the crown."
Peter Hoskin, associate editor of Conservative Home, wrote: "David Miliband's departure does leave Labour a weaker party... he is one of the few prominent Labour figures with actual, fully-formed ideas - and, what's more, some of them are quite sensible."
Nicholas Watt, the Guardian's chief political correspondent, wrote: "Many of his supporters, a large proportion of whom hail from the Blairite wing of the party, hoped that he would ride to the rescue of Labour once his brother proved inadequate to the task of leading. But the problem for those dreaming of a return for the former foreign secretary is that Ed Miliband has turned out neither to be a stellar leader nor a disaster, according to Blairites."
Analysis from theIndependent: "David's departure at the age of 47 will bring mixed reactions in Labour circles. Blairites will regret the loss of one of the party's 'big beasts'... But others will be relieved that Ed Miliband will no longer have to worry about his brother's role as the election approaches - and the intense media focus that his return would have brought."