With the grassroots at Tory spring conference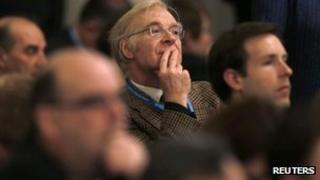 The Conservatives hold an annual Spring Forum for their activists instead of a full conference.
With fewer lobbyists, less media attention and hardly any policy announcements it provides a good opportunity to check the true condition of the Tory grassroots in a less febrile atmosphere.
The activists who trooped to London's Connaught Rooms on a wet Saturday applauded the traditionalist elements of David Cameron's address, such as the return of competitive school sport and a ban on calculators in primary school maths tests.
There was a little less enthusiasm for the more esoteric section of the speech that dealt with his core theme: aspiration.
Some say Home Secretary Theresa May has aspirations to succeed her boss, after she gave a speech that ranged well beyond her brief at a previous gathering of the rank and file.
She stuck to the day job and was scrupulously loyal when she took to the podium this time.
Afterwards Cameron loyalists were - predictably - over the moon with the prime minister's performance.
One female activist who lives in the prime minister's constituency said: "I saw him in Witney on Friday and again today. He's on top form. He's confident and he's perfectly capable of taking us to a Conservative victory in 2015."
Note that she is from the truest of true blue families: Her 10-year-old son is disappointed because he is too young to officially join the Tory party.
But Mr Cameron failed to win over a former general election candidate and local councillor called Victoria Ayling, who ambushed the prime minister as he left the venue to tell him that she was defecting to UKIP.
'Overly stage-managed'
After party aides moved her aside, she explained that there is a new phrase in Tory circles: "After a couple of pints, a lot of Conservatives are UKIP."
"I suspect there will be a lot more defections," she added.
Another stalwart of party events complained that the whole thing was overly stage-managed.
"Maggie would have turfed the media out afterwards and taken questions from the audience even if they were really hostile," he claimed.
And hostility to the leadership was the theme at a lunchtime meeting of the activists who make up the newish Conservative Grassroots group.
David Cameron's eyes would pop if he could hear some of their ideas, which included an electoral pact with UKIP and seats at the cabinet table for them.
And member after member announced the number of people who had resigned from their local Conservative association over the issue of gay marriage.
Balham have lost six; Somerset 16; Thornbury and Yate 24.
Perhaps, then, a better gauge of the Tory mood would be to speak to the people who weren't at this Spring Forum.
Or maybe they were at another event that was taking place in the same venue at the same time.
It was a workshop about positive thinking, run by a company called The Brain People.