Public sector employees get 1% pay rise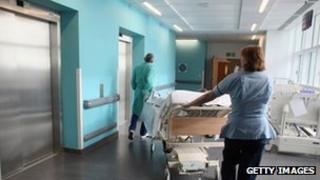 Public sector employees including nurses, doctors and armed forces personnel are to receive a 1% pay rise in April, the government has announced.
The Treasury said it had accepted the recommendations of a number of pay review bodies.
The 1% increase was "in line with" the chancellor's 2011 autumn statement and would "help to protect jobs", it added.
But trade union Unison said its members faced another year of financial hardship.
The Consumer Prices Index (CPI) measure of inflation is currently at 2.7%.
The 1% rise will be paid to a million NHS workers, 169,000 doctors and dentists, 170,000 members of the armed forces from the ranks of private to general, 3,600 senior civil servants, 2,200 members of the judiciary and 500 senior NHS managers.
The 31,000 prison workers will be treated slightly differently - more senior staff will receive a 1.5% pay rise, with those deemed "outstanding" also entitled to a bonus worth 1% of their salary, while more junior staff will find their salaries increase a notch, or "pay point", within their pay grade.
'Heads above water'
Christina McAnea, Unison's head of health, said: "What kind of message does it send to health workers about the value this government places on their work? And what incentive is there for young people to join the NHS when they are so undervalued?
"Freezing and squeezing pay is crushing morale and heaping financial misery on more than a million NHS workers.
"At the same time, the NHS is going through a massive reorganisation and staff are dealing with job cuts, rationing and ever increasing patient numbers."
Peter Carter, general secretary of the Royal College of Nursing, said: "There is no doubt that nurses and health care assistants are really struggling to keep their heads above water financially as their pay levels are failing to keep pace with inflation.
"The announcement of a 1% increase for 2013-14 does nothing to restore the 9% gap caused by rising inflation that we have seen open up during the previous two years' pay freeze.
"This is happening at the same time as staffing numbers fall and health care demand rises, making it increasingly difficult to maintain the quality of patient care."
A separate announcement on teachers' pay, which is set according to the academic year, is expected by the end of May.