Brewery joke highlights Tory nerves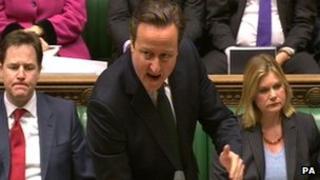 There is nothing a politician likes less than ridicule. A well aimed gag is much more likely to penetrate enemy lines than a full frontal assault.
Your own troops join in the laughter before realising that it is their leader and their party which is the butt of the joke.
So it was today when Ed Miliband asked David Cameron whether there was anything he could organise in a brewery.
The catalyst was the looming U-turn on minimum alcohol pricing. The cause was something much deeper.
It's the sense that the glue that held together the Conservative Party is weakening. Increasingly fearful of electoral defeat, backbenchers and Cabinet ministers alike have begun to angst and gossip and manoeuvre.
Thus, one day Theresa May gives what was seen as the speech of a potential leader; the next her posturing is condemned by the education secretary; and the one after that she is blamed for vetoing minimum alcohol pricing.
In truth, she has long been one of many ministers warning that what could be portrayed as a new beer tax would be about as popular as the pasty or caravan tax.
One of those close to the prime minister says the decision has been driven by "de-cluttering" - that is getting the No 10 team to focus on what really matters.
Now, though, a new problem looms. What really matters to many Tory backbenchers is Europe. For them, the recent promise of a future EU referendum was good but not good enough.
Today's decision by the European Parliament to reject the deal which cut the size of the EU Budget will convince them that a confrontation with Brussels cannot wait.
They want their leader to table a bill now for a future referendum on Britain's membership of Europe and to challenge Labour and the Liberal Democrats to back or reject giving the public their say.
They are likely to push very hard to get it.
If the Tories do now argue about how hardline to be about Europe that really will put a smile on the face of the Leader of the Opposition.