Liberal Democrats 'in a critical state', warns party's president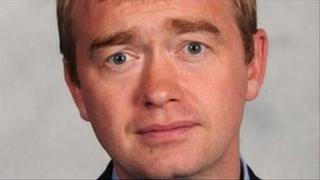 The Liberal Democrats are in a "critical state" and should not assume "survival is guaranteed", the party's president, Tim Farron, has said.
He likened the party to a cockroach for its ability to survive but said this should not be taken for granted.
Mr Farron said "99%" of people "don't care" about sexual harassment claims against the party's peer Lord Rennard.
But he said the Lib Dems "certainly appear to have let people down" over the handling of the allegations.
Lord Rennard, former Lib Dem chief executive, denies the allegations.
'Twists and turns'
Mr Farron, who was speaking in an interview with the House Magazine, said: "The party is in a critical state. We may well be cockroach-ish, but we shouldn't take that for granted. One day someone will stand on us if we are not careful. We shouldn't assume our survival is guaranteed."
He stood by his previous remarks that the party had "screwed up" over the Lord Rennard matter, but he said it was crucial the party did not now go into "institutional self-defence mode".
"I think 99% of the people out there just don't care, it's not been raised. I've done a lot of door-knocking both in Eastleigh and in my patch this last week. It was mentioned to me once, and that was in sympathy," the Westmorland and Lonsdale MP said.
Mr Farron praised Nick Clegg as a good leader and said he was "very popular" within the party.
"Nobody else has had to withstand the kind of pressure that he has and the scrutiny and whoever was in that position would have to be dealing with all that and I think he's dealt with it brilliantly," he said, but added: "I think there are a lot of twists and turns to go."
Mr Farron took a swipe at his Conservative coalition colleagues, branding David Cameron "very weak" and suggesting there were at least three Lib Dem candidates who could "do a better job" than George Osborne as chancellor.
Referring to Mr Cameron, he said: "There was a moment where he could have become a properly coalition, liberal Conservative centre-right prime minister and quite a statesman and quite a unifying prime minister, but for a variety of reasons he's become a very weak prime minister and in the grasp of his right, not even the intelligent right actually."
Mr Farron denied he wanted to replace Mr Clegg as party leader saying he was "not at all" focused on the leadership as "there are more important things in life".
He told the magazine the only way to become a Lib Dem MP was by "being a nutter and working your socks off".