Peers want more vetting of EU applicant states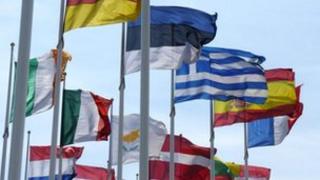 The European Union should be more careful to ensure countries respect human rights and democracy before they join the EU, a group of peers has said.
The Lords EU Committee, which has been looking into EU expansion, said Romania and Bulgaria joined the EU "before they were ready" in 2007.
Corruption and judicial reform should have been tackled before they became members, the peers said.
But they found EU expansion had boosted economic growth and European security.
Seven countries are currently in talks to join the European Union - Macedonia, Iceland, Montenegro, Serbia, Turkey, Albania and Bosnia-Herzegovina.
Croatia is due to join the EU on 1 July 2013, which will take the total number of member states to 28.
'Enlargement fatigue'
When Romania and Bulgaria joined in 2007, the peers said, agreed criteria which countries were supposed to meet before they can accede were not applied in full - meaning both countries joined without sufficient progress being made on judicial reform and corruption.
This failure "led to a scramble to bring those countries up to speed after their accession," committee chair Lord Boswell said. "That cannot be allowed to happen again."
The committee said that EU enlargement had become less of a priority given the ongoing economic difficulties in the Euro zone and there was a waning interest amongst aspiring countries.
"Enlargement fatigue (in the EU) and accession fatigue (in aspirant countries) could seriously threaten the future of the enlargement agenda," the peers said.
But the committee pointed to the expansion of the single market - which now has over 500 million consumers with a combined GDP of £11trn - as one of the major benefits of enlargement to all member states.
It said it recognised concerns about immigration from an ever-expanding EU, but said transitional controls on free movement for citizens from the new member states were "appropriate" and helped labour markets adapt to the newly expanded Union.
The work restrictions on Romanians and Bulgarians coming to the UK expire at the end of this year, prompting the government to examine benefit entitlements in a bid to clamp down on "benefit tourism".
"It is important the EU does not lose sight of the benefits enlargement can bring," Lord Boswell said. "The UK, for example, aims to export its way out of recession and a larger single market can only help that effort.
"It is also vital that the EU abides by its own rules when taking in new members."
A further benefit to enlargement, peers said, was the "vital" role it played in improving Europe's security.
However, the peers expressed "grave concern" that Cyprus was allowed to join the EU in 2004 despite its bilateral dispute with Turkey over northern Cyprus - which is now having "serious consequences" for Turkey's own progress towards becoming a member state.
In future, they said, any disputes should be resolved prior to accession.