Eastleigh by-election 'two-horse race' claims Nick Clegg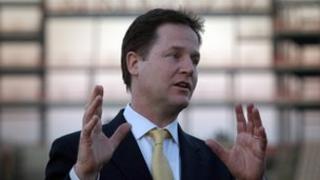 Nick Clegg has said the Eastleigh by-election is a "two-horse race" and the contest between the Lib Dems and their Tory coalition partners remains close.
Mr Clegg, who is campaigning in the Hampshire seat on Monday, said voters faced a "simple choice" between the two parties and their records locally.
Under fire for his party's handling of allegations against ex-chief executive Lord Rennard, he said voters could trust the party's record in office.
Voters go to the polls on Thursday.
The by-election was triggered by former Lib Dem cabinet minister Chris Huhne's resignation as an MP earlier this month after he pleaded guilty to perverting the course of justice over claims his former wife took speeding points for him.
'Record of delivery'
Huhne won the seat in 2010 with a majority of 3,864 over the Conservatives.
The Lib Dems have said the contest - the first by-election battle of this Parliament where the two governing parties are going head to head - is close and they hope to "seal the deal" over the coming days.
"Of course it is a close contest," Mr Clegg said. "It was always going to be closely fought.
"It is clearly a contest between two parties, the Lib Dems and the Conservatives. Labour are not going to win - they have said so themselves - and UKIP are running a very colourful campaign but they are not going to win.
"It is a two-horse race between the Lib Dems and the Conservatives."
Although they are in coalition nationally, Mr Clegg said there were "very clear" differences between the policies of the Lib Dems - who control Eastleigh council - and the Tories in the marginal constituency.
"There are a lot of people, here in Eastleigh, who recognise what we have done is in the national interest and...whether it is on jobs, on green spaces, on fair taxes, we are the only party with a record of delivery."
Asked whether the Lib Dems could be "trusted" following the former energy secretary's guilty plea and allegations of inappropriate behaviour towards women by Lord Rennard, which the peer denies, Mr Clegg urged voters to focus on the party's record in local and national government.
He said the party had delivered on real terms council tax cuts, new apprenticeships and economic regeneration schemes, adding that these were "things where people can trust the record of action of the Lib Dems locally and our promise of more".
Prime Minister David Cameron, Labour leader Ed Miliband and UKIP leader Nigel Farage have all visited the constituency since the campaign began. Labour came third in the 2010 poll with UKIP in fourth.
The list of candidates in alphabetical order is:
COLIN BEX - Wessex regionalists
DAVID BISHOP - Elvis Loves Pets Party
JIM DUGGAN - Peace Party
RAY HALL - Beer, Baccy and Crumpet Party
HOWLING LAUD HOPE - Monster Raving Loony William Hill Party
MARIA HUTCHINGS - Conservative
DIANE JAMES - UK Independence Party
DR IAIN MACLENNAN - National Health Action Party
KEVIN MILBURN - Christian Party "Proclaiming Christ's Lordship"
JOHN O'FARRELL - Labour
DARREN PROCTER - Trade Unionist and Socialist Coalition
DANNY STUPPLE - Independent
MIKE THORNTON - Liberal Democrats
MICHAEL WALTERS - The English Democrats - "Putting England First!"