Eastleigh by-election: Nick Clegg plays down PMQs comments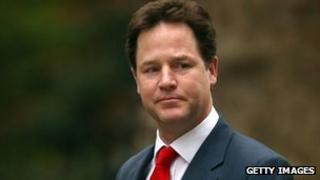 Liberal Democrat leader Nick Clegg has played down the impact of David Cameron's comments on the Eastleigh by-election at Prime Minister's Questions.
Mr Cameron gave Tory candidate Maria Hutchings high profile backing during the set-piece event on Wednesday.
Mr Clegg, speaking from his trip to Africa, told his regular LBC radio phone-in show he could not stop the PM from "saying what he likes".
He said that the Lib Dem record in Eastleigh was their secret weapon.
The deputy PM usually takes part in a half-hour phone in with the radio station, but was unable to do so because of the trip to Africa as part of the UK's presidency of the G8 group of rich nations.
But during a brief phone call he was asked about the state of the campaign in the by-election being held on 28 February.
The PM's questions comments were put to him, prompting Mr Clegg to reply: "I can't stop him if I am there, and I certainly can't from Mozambique, from saying what he likes."
The full list of candidates in Eastleigh, in alphabetical order is:
COLIN BEX - Wessex regionalists
DAVID BISHOP - Elvis Loves Pets Party
JIM DUGGAN - Peace Party
RAY HALL - Beer, Baccy and Crumpet Party
HOWLING LAUD HOPE - Monster Raving Loony William Hill Party
MARIA HUTCHINGS - Conservative
DIANE JAMES - UK Independence Party
DR IAIN MACLENNAN - National Health Action Party
KEVIN MILBURN - Christian Party "Proclaiming Christ's Lordship"
JOHN O'FARRELL - Labour
DARREN PROCTER - Trade Unionist and Socialist Coalition
DANNY STUPPLE - Independent
MIKE THORNTON - Liberal Democrats
MICHAEL WALTERS - The English Democrats - "Putting England First!"