Ministers to end involvement in extradition appeals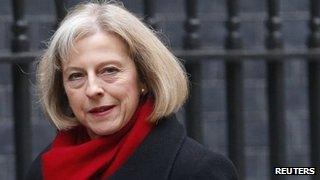 Ministers will no longer have the power to decide appeals in extradition cases, under plans unveiled by Theresa May.
The home secretary is seeking to change the law so that judges decide whether appeals on human rights grounds should be approved.
Judges' decisions on whether to extradite a suspect or prosecute them in the UK will also be made more transparent, Mrs May added.
This would ensure decisions were "fair and balanced", she said.
At present, any extradition request is made to the home secretary, who makes an initial ruling on whether it should be rejected immediately on human rights grounds - for example, in cases where a suspect may face torture or the death penalty.
If it is not rejected at this stage, the request is passed to the courts to make a ruling on whether it should be granted.
The government's proposed amendments to the Crime and Courts Bill will not change this.
'More transparent'
But they would mean that, if the request is granted and the suspect intends to appeal against extradition human rights grounds, they would need to make that appeal to the courts - and not the home secretary, as under the current system.
The amendments would also introduce a different system for assessing whether suspects should be prosecuted in the UK or extradited in cases where either option is a possibility.
In any future such cases, British courts would be able to block extradition if it were "not be in the interests of justice", for example in cases where a "substantial measure" of the suspect's alleged activities took place in the UK.
This so-called "forum bar" will mean that suspects will be able to argue in open court that they should be prosecuted in the UK and not overseas.
Under the present system, such decisions are taken behind the scenes.
Mrs May said: "It is in the overwhelming public interest that our extradition arrangements function properly. The introduction of the forum bar will make the process more open and transparent and provide greater safeguards for individuals.
"If the public and Parliament are to have confidence in our extradition arrangements, it is vital that decisions are not only fair, but are seen to be fair. Decisions must be made in open court where they can be challenged and explained.
"I believe that this is a real opportunity for us to change the terms of the debate about extradition in this country and will demonstrate that our arrangements, particularly those with the US, are fair and balanced. "