Stop cultural 'pick-and-mix', warns minister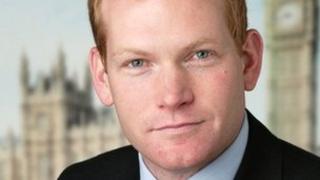 A Home Office minister is to warn people who set up forced marriages and commit so-called "honour crimes" that there "cannot be a pick-and-mix approach" to living in the UK.
Jeremy Browne will also say that the genital mutilation of girls as young as five is "barbaric" and should be regarded as "child abuse".
About 20,000 girls a year are thought to be at risk from the practice.
The Lib Dem MP will also call for equal treatment of boys and girls in society.
Honour crimes involve violence committed by people who want to defend the reputation of their family or community.
Speaking at an event in the House of Lords, Mr Brown will argue that the UK's "emancipation revolution" should apply universally.
'Repulsion'
But he will say thousands are losing out as a result of a "deliberate rejection of the emancipation revolution and the equal opportunities now afforded to women and girls".
Mr Browne will add: "It is unacceptable for the individual women and girls whose freedom and opportunities are stifled. And it is wrong for our society. There cannot be a pick-and-mix approach to living in a benign liberal country. The benefits must be universal, without exceptions or exemptions.
"I do not believe that cultural relativism provides an excuse to opt-out of our shared liberal social settlement. Everyone should enjoy the freedom to make their own choices, without the fear of social coercion."
The minister will urge society to show its "collective repulsion about so-called 'honour crimes'", including murder, rape and kidnap.
According to a study based on census data, about 20,000 girls are at risk of genital mutilation, with one north London hospital recording 450 cases in the past three years. Yet there has not been a single prosecution, Mr Browne will say.
He will say: "I can only conclude that there is nervousness amongst some professionals to confront the practice of female genital mutilation head on. That it is viewed as an exotic or unusual custom practiced by a culture they should not intrude upon.
"That there is a cultural relativism that leads them to excuse what is being done to other people's daughters when they would never allow it to be done to their own.
"That those professionals are somehow not seeing female genital mutilation for what it really is. Because what it is, categorically and unequivocally, is child abuse. It can never be excused or ignored and it should be treated in the same way as any other form of child abuse."
Mr Browne will implore victims to report their treatment to ensure "prosecution of this heinous crime".