Police commissioner elections: Candidates in final push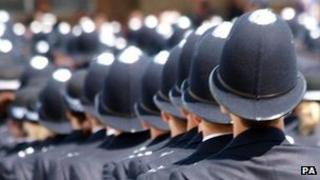 Candidates to become England and Wales's first police and crime commissioners are conducting a final day of campaigning, amid concerns that voter turnout could be as low as 15%.
Elections are taking place in 41 police force areas on Thursday.
Commissioners will set out spending plans and appoint chief constables.
Meanwhile, three parliamentary by-elections happen on the same day, and voters in Bristol will be choosing their first directly elected mayor.
The government has set up the commissioner role in what it describes as an effort to make police more accountable, with a single "figurehead" monitoring and ensuring performance.
But opponents say this is a waste of money at a time when budgets are being cut and staff laid off.
'Legitimacy'
Labour and the Conservatives are putting up candidates in all force areas. The Liberal Democrats are not centrally supporting candidates but have not barred their members from standing.
The commissioners will appoint the chief constable of their force, set out local policing priorities, report annually on progress and set out the force budget and community safety grants.
Earning between £65,000 and £100,000 a year, their establishment was opposed by Labour, but the Conservatives have argued they will bring in valuable outside experience.
Elections are taking place in all parts of England and Wales except London, where Mayor Boris Johnson carries out the role of commissioner.
Former Labour Home Secretary David Blunkett told BBC Wales that overall turnout could be lower than 15%, which would not give "proper legitimacy" to the winning candidates.
Shadow home secretary Yvette Cooper told ITV 1's Daybreak: "The government, as well as choosing to have the elections in November when they could have waited until May, have simply not provided people with proper information."
'Invisible'
But Conservative Party chairman Grant Shapps said the commissioners would have a "really important" role and the government had chosen the date because it wanted to get the elections under way as quickly as possible.
He said: "I think it is really important that people know a figurehead, a name of a person that they can turn to when they are concerned about crime and anti-social behaviour in their area. They want to know why the police are costing money on their council tax bill.
"This is somebody who will be directly accountable to them for the very first time."
The Home Office said commissioners would have a better democratic mandate than "invisible police authorities".
Meanwhile, three parliamentary by-elections are taking place on Thursday.
That in Cardiff South and Penarth follows the resignation of Labour MP Alun Michael to stand as a police and crime commissioner.
The same applies in Manchester Central, where Labour's Tony Lloyd quit for the same reason.
The third contest, in Corby, comes after Conservative Louise Mensch resigned to move to New York with her family.
There are 14 candidates standing in Corby, along with 12 in Manchester Central and eight in Cardiff South.
The mayoral contest in Bristol follows a referendum in May to create the role. It was the only city to decide in favour of the change.
Polling stations will be open on Thursday from 07:00 GMT to 22:00 GMT.