Q&A: Police and crime commissioners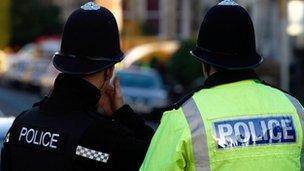 A guide to police and crime commissioners in England and Wales.
What are police and crime commissioners?
PCCs are elected representatives who work to ensure that police forces in England and Wales (not including London) are running effectively. They replaced police authorities and are intended to bring a public voice to policing.
The government insists PCCs are not there to run local police forces but to hold them to account and respond to the needs of the public.
Who are they?
Some 192 candidates stood for the 41 posts covering England and Wales - apart from London - in the elections held in November 2012. Labour and the Conservatives fielded candidates in each area, with the Liberal Democrats putting forward 24 candidates.
The results were: Conservatives - 16, Labour - 13, Independents - 12, Liberal Democrats - 0. Among the successful independent candidates were eight former police officers, one of Wales' most senior barristers, and an ex-pilot.
A total of 35 women stood as candidates, with six elected.
What do they do?
PCCs' responsibilities include:
Appointing chief constables of forces and dismissing them when necessary
Holding the chief constable to account for the performance of a force's officers and staff
Providing a link between the police and communities, which includes consulting local people, the council and other organisations
Overseeing community safety and the reduction of crime, and ensuring value for money in policing
Setting out a force's strategy and policing priorities through the Police and Crime Plan
Setting out the force budget and community safety grants - taken together, the commissioners are responsible for £8bn of spending on police in England and Wales
Reporting annually on progress
What does their role not cover?
Police and crime commissioners cannot tell the police how to do their job - despite having some control over the direction of a force. The operational independence of the police is protected by legislation.
How did the idea come about?
The idea of giving local people more of a say in how the police in their area are run has been championed for years by some Conservatives as a way of boosting local democracy - but it only became party policy at the 2010 election.
The coalition agreement contained a pledge to make the police "more accountable through oversight by a directly elected individual". The proposal was fleshed out in the white paper "Policing in the 21st Century" and enacted in the Police Reform and Social Responsibility Act, which became law in 2011.
Is the post of a PCC political?
PCCs are required to swear an oath of impartiality when they are elected to office. This echoes the commitment police officers make to serve every member of the public impartially. Before the introduction of PCCs, the government promised that the way investigations were carried out would not become political.
Who holds PCCs to account?
PCCs have to answer to the public - the government says their performance "should be judged solely by the electorate".
In addition to this, Police and Crime Panels have been set up in each force area to scrutinise and challenge the actions and decisions of each PCC. A panel may require the attendance of the PCC, has the power to suspend them from office because of a criminal offence, or exercise a veto over a proposed candidate for chief constable.
You can complain to the Independent Police Complaints Commission (IPCC) if you think your PCC has broken the law.
Who sits on a Police and Crime Panel?
In England, panels are mainly made up of representatives from each local authority in a police force area. In Wales, they are free-standing public bodies, set up and maintained by the secretary of state, rather than local authority committees.
How are PCCs chosen?
Public elections for the first police and crime commissioners took place on 15 November 2012 in 41 police force areas across England and Wales, not including London. The elections were described as the biggest shake-up of policing for almost 50 years.
A PCC's term of office is four years, with a maximum of two terms. The next elections will be in 2016.
All registered voters were entitled to take part in the 2012 elections. The supplementary vote system was used in all force areas where more than two candidates stood, with voters marking the ballot paper with their first and second choice of candidate.
Why isn't London included?
London has a directly elected mayor, who acts as the police and crime commissioner for the Metropolitan police area. London's police and crime panel is formed from a committee of elected London Assembly members. The commissioner of the Metropolitan Police will continue to be a Royal appointment on the advice of the home secretary.
How much do PCCs cost?
Ministers have said the cost of PCCs and police and crime panels must be no greater than the abolished police authorities.
Commissioners are paid between £65,000 and £100,000 per year depending on the police force area. Salaries are recommended by the Senior Salaries Review Body, which advises on the remuneration of those in public office, and approved by the home secretary.
Earlier this year, BBC research revealed the salaries of the majority of the PCCs were between £70,000 and £85,000, although the commissioners overseeing the three major forces of Greater Manchester, West Yorkshire and West Midlands were each receiving £100,000.
What do supporters say?
Supporters argue that elected commissioners make policing more accountable and responsive to local needs because, for example, they consult with victims of crime when setting policing priorities. They also say PCCs bring valuable outside experience to forces.
What do critics say?
Opponents warn they could lead to the politicisation of the police, with commissioners favouring headline-grabbing initiatives. They also fear commissioners could interfere with the running of police forces.
Critics also question whether PCCs have real legitimacy following the low turnout of just over 15% in the 2012 elections.
Have there been any problems so far?
During the first year that PCCs have been in office, there have been four investigations carried out by the IPCC (some ongoing), as well as investigations by the CPS into expenses claims.
What were police authorities?
Police authorities, first established in 1964 to hold chief constables to account, had oversight of the police before PCCs. They were made up of local councillors and independent, appointed members. But the government concluded that police authorities were "invisible" and needed replacing with elected commissioners and police and crime panels.