Damian Green wants Tories to pass 'Danny Boyle' test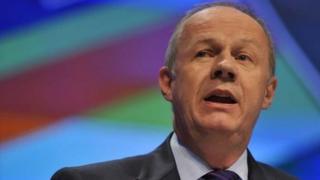 Immigration Minister Damian Green has said that, to appeal to more voters, the Conservative party needs to pass what he calls the "Danny Boyle test".
Writing in the Daily Telegraph, Mr Green says the Tories must "cheer the numerous virtues of Britain in 2012".
He added that "if we don't like modern Britain, then it is very unlikely that modern Britain will like us".
Mr Boyle, a film director, oversaw the widely-praised Olympic opening ceremony at the Olympic Stadium in east London.
Mr Green said: "To succeed, the Conservative Party must be at home in modern Britain. Much in this country needs changing and improving; but we should not become nostalgists promoting a better yesterday.
"We need to pass the Danny Boyle test, and cheer the numerous virtues of Britain in 2012."
Political lessons
Under Mr Boyle's guidance, the opening ceremony covered topics such as the NHS and Britain's industrial and musical heritage, as well as other national achievements.
He has said that the theme for the event was "this is for everyone".
However, some accused Mr Boyle of being too left-wing in his artistic direction, including Conservative MP Aidan Burley. He posted a message on Twitter in which he referred to "leftie multi-cultural" ceremony.
He later said his comments were misunderstood, and Downing Street said it did not agree with his Twitter post.
Mr Green went on to say that the "historically successful ideal of 'One Nation Conservatism' also needs consistent updating".
The MP for Ashford added: "Essentially, One Nation Conservatism means that every individual deserves a chance to contribute to the health of our society. No-one should be written off because of their background.
"This is a moral proposition but it is also an important political lesson. Nostalgists in the 1980s winced at the arrival of 'Essex Man' in the Tory tribe. They were wholly wrong to do so.
"My grandfather was a Welsh dock-worker who voted Tory. Some of my friends are investment bankers who have voted Labour. It takes all sorts, and the best Tory values appeal to all sorts."
'Common ground'
He went on to say that the Conservative Party needs to connect with the mood of the country by "finding and occupying the common ground, not splitting the difference between hard Left and hard Right".
"The common ground contains elements that would normally be classified as belonging to the Right or Left.
"A modern Conservative government, which is what I want to see after the next election, will look to occupy the common ground by applying Conservative principles to the main issues the people of Britain care about."
This, he said, meant continuing to take "tough but necessary decisions for the long-term health of the economy", sticking to plans to reduce immigration and "continuing to tackle those areas where Conservatives have not traditionally been well-regarded, such as the NHS".
Above all, he added, the Tories should maintain a "relentless focus" on promoting opportunity and social mobility.
Labour said it had no comment to make on Mr Green's views.