Asil Nadir money should be returned, ex-Tory treasurer says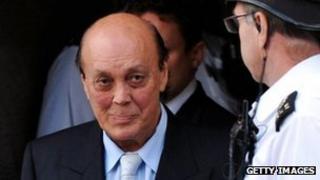 A former Conservative Party treasurer has called for donations from Asil Nadir's Polly Peck firm to be returned.
Lord McAlpine said it would be morally wrong for the party to keep the money - donated between 1985 and 1990 - in the wake of Nadir's theft convictions.
The Conservatives have previously insisted the money was received in good faith from a legitimate business.
Nadir, 71, was jailed for 10 years on Thursday for stealing nearly £29m from his Polly Peck empire.
'Tainted money'
Lord McAlpine was party treasurer at the time the donations were made.
He now believes the party should have handed the cash back to Polly Peck's creditors when Nadir fled Britain in 1993 following the collapse of his empire.
Labour have also called for the return of the money.
Lord McAlpine told the Daily Mail: "It is tainted money and it shames the Conservatives if they hang on to it. They have a moral duty to give it back.
"The moment he fled the country in 1993, to avoid criminal charges, it was obvious to me he was a complete conman. Frankly, the Tories should have given the money back in 1993.
"But today the case is even clearer. There is a moral imperative for the money to be returned. The money was not Asil Nadir's to give although we thought it was at the time.
"Therefore the Tory party has a duty to return it. It will speak volumes about the character of the modern Tory party if they don't do the right thing. I trust that David Cameron is an honourable man."
'Heed warnings'
The Conservatives argue that they have never received any personal donations from Nadir, and they have no evidence the money they did receive via his business interests was stolen.
The BBC's political correspondent Chris Mason said party sources were suggesting Lord McAlpine's comments would have "no material effect" on its stance.
And Conservative MP Sir Malcolm Rifkind, a cabinet minister under Margaret Thatcher and Sir John Major, told the Mail:
"One would need to know a lot more about where the money came from before one could think about whether it should be handed back."
But Labour MP Simon Danczuk said a 1993 report by accountants Touche Ross reportedly concluded that £365,000 of the £440,000 donated to the Tories came from money defrauded from Polly Peck.
"The Tories' stance that they can keep these donations looks more ridiculous and desperate by the day," he said.
"David Cameron's party should heed the warnings from their own side that holding on to this cash is 'shaming'. They should finally do the right thing and give it back."
The BBC understands that any money returned by the Conservatives would have to go to the administrators of Polly Peck International which are responsible for recovering assets to pay its debts.
Nadir stole from Polly Peck International, which was a major UK conglomerate until 1990 when it collapsed after a Serious Fraud Office investigation.
He fled the UK in 1993 while awaiting trial and went to northern Cyprus but returned in 2010. His solicitors said he maintained his innocence and would be lodging an appeal.