MP demands female justice minister, after rape comments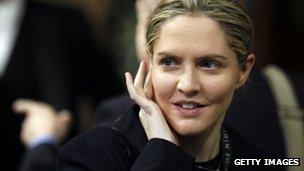 David Cameron should appoint a female justice minister following recent comments by male politicians about rape, a Tory MP has said.
Louise Mensch said women were "fed up with male politicians diminishing, dismissing and demeaning the horrific crime of rape".
In recent days, George Galloway and US congressman Todd Akin have both faced criticism for their views.
The prime minister is expected to carry out a reshuffle in early September.
Justice Secretary Ken Clarke faced criticism last year when, in an interview about sentencing proposals, he appeared to suggest that some rapes were less serious than others.
On Monday, Mr Galloway, an MP for the Respect Party, was criticised after suggesting Wikileaks founder Julian Assange was accused of nothing more than "bad sexual etiquette".
'Base sexism'
Mr Assange is wanted in Sweden to face allegations - which he denies - of sexual assault made by two women.
Mr Galloway subsequently insisted he regarded all non-consensual sex as rape but faced criticism from his party leader, Salma Yaqoob, who said his views were "deeply disappointing".
Writing in the Daily Telegraph, Mrs Mensch, who is standing down as MP for Corby, in Northamptonshire, said: "The justice department has no women in the most senior roles; it stumbled both on trying to grant anonymity to men accused of rape, a Lib Dem idea, and in Ken Clarke's own unfortunate comments about rape.
"I hope (and expect) that the prime minister will use the opportunity of the reshuffle to promote some of the talented female lawyers on his benches into the department that governs rape, sexual trafficking and other crimes against women."
Ms Mensch also attacked the former British ambassador to Afghanistan, Craig Murray, for revealing the name of one Mr Assange's alleged victims on the BBC's Newsnight programme.
In the US, a row has erupted after congressman Todd Akin, who is also running as Republican candidate for the Senate, said women's bodies were naturally able to prevent pregnancy in the case of "legitimate rape".
"Why do male politicians get this so wrong? Unfortunately, the answer is simple: because they believe what they are saying. Galloway, Akin and Murray represent the tip of an iceberg of resentment and base sexism," Ms Mensch wrote.
"All too often, the media pretends that feminism's work is done. This week shows us what so many male politicians really think about consent, and sex, and the rights of a woman to withhold it, or attach conditions to it. There is a long way to go."
A Downing Street spokesperson said: "We do not comment on reshuffle speculation."