Assurance on Big Ben name change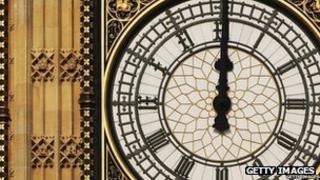 My recent blog linking the naming of Big Ben with the Victorian prize fighter 'Big Ben' Caunt certainly caused a stir.
Did I drop a clanger by underplaying the role of Benjamin Hall?
He was after all the first parliamentary commissioner of works, who organised the installation of the huge bell.
I've since learned that his name is inscribed on Big Ben. Some clue, surely?
Yet official parliamentary accounts acknowledge the bell could also have been named in honour of Ben Caunt, England's heavyweight boxing champion in the 1840s.
It's that intriguing piece of parliamentary folklore that his descendants in Nottinghamshire are so proud of and are ready to defend… though these days, perhaps not in the ring.
Name change?
That brings us to the proposal by MPs to rename the historic clock tower 'Queen Elizabeth Tower' to mark Her Majesty's Diamond Jubilee.
Following the earlier concerns of 'Big Ben' Caunt's descendants, I've now been given a guarantee that the name change won't apply to Big Ben.
There was never any intention of messing with the name.
And that assurance has come directly to me from Tobias Ellwood, the Conservative MP who's led the campaign to rename the celebrated clock tower.
"The name change will in no way impact on the name of the famous bell," he said.
The Bournemouth East MP secured the support of more than half of all MPs to back the name change.
That's required by the House of Commons Commission - it is the governing body of the Commons, that's chaired by the Speaker John Bercow.
"Commemorating such an iconic landmark is indeed a truly exceptional tribute and I am grateful that a majority of MPs confirmed that the Queen deserves such an outstanding accolade," he added.
Battle of the 'Bens'
It took Tobias Ellwood four months to get his fellow MPs to back the idea.
One of them included Sherwood MP Mark Spencer, who was later alerted to the concerns of Ben Caunt 's descendants.
Any suggestion the name change included Big Ben could have become a parliamentary spanner in the works.
The proposal has now gone to Buckingham Palace.
"Yes, I've heard the story about Ben Caunt," said the MP.
"But I'm sure the descendants of Benjamin Hall would argue their claim is much more likely."
Back in the Nottinghamshire town of Hucknall - where 'Big Ben' Caunt is buried - there's quiet satisfaction.
"I'm pleased we made our point and I'm pleased to hear Mr Ellwood's reassurance about the name of Big Ben," said Eileen West, Ben Caunt's great granddaughter.
So Big Ben isn't in doubt and never really was.
That just leaves the question of who exactly inspired the original naming of the bell in the first place - 'Big Ben' Caunt or Benjamin Hall?
Now, as Harry Hill would say: "There's only one way to decide this. Fight!!"