Failing civil service mandarins 'may face sack'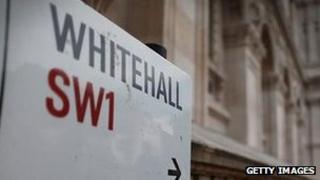 Ministers could be allowed to sack top civil servants who fail to deliver on performance targets, under plans being considered by the government.
It will study the system in New Zealand, where mandarins sign a contract setting out expectations.
The government is also to look at the US system, in which incoming administrations bring in their own staff and others are sacked.
Minister Francis Maude said Whitehall had to "change and adapt".
But Labour said the government had to stop blaming civil servants for its own "failings".
Currently, ministers are not directly responsible for hiring or firing those in the top rank, who are expected to remain politically impartial.
The coalition will use its Contestable Policy Fund to commission a think-tank or academic body to review other countries' civil services, in an effort to find alternative ways of working.
'Fast-changing world'
Researchers will study how governments operate in Australia, Singapore, the US, France, Sweden and, in particular, New Zealand.
Mr Maude, the Cabinet Office minister, said: "While we are rightly proud of our civil service, we shouldn't hubristically assume that there's nothing we can learn from other successful governments, whether like Australia and New Zealand, where they have political arrangements which are broadly similar to ours, or like Singapore or the United States, where they are more distinct.
"To meet the future challenges of our fast-changing world, Britain's civil service will need to continue to change and adapt, and that's why we are determined to draw on new ideas."
Civil service head Sir Bob Kerslake said: "This is about better equipping the government to carry on doing what it does best, which is delivering essential public services that make a real difference to people's lives."
For Labour, shadow Cabinet Office minister Jon Trickett said: "David Cameron needs to stop blaming the civil service for the failings of his government, and take some responsibility.
"The idea that we need even more politicised Tory appointees is completely out of touch. David Cameron has already broken his promise to limit the number of special advisers: now it seems he wants even more of them."
The government published its Civil Service Reform Plan in June, in which it said it wanted to improve performance but remain a "good, modern employer and continue to be among the best employers in the country".
It included plans for putting the bottom 10% of staff on probation and fired after a year if they fail to improve and ministers being given the power to choose who runs departments.
But Prime Minister David Cameron told a committee of MPs in July that he did not want Whitehall to become "politicised".
He said: "I think there are some radical elements in here but I don't want us to fundamentally change the system from ministerial accountability with a permanent civil service to some different French or American system."