UK government in Aleppo 'massacre' warning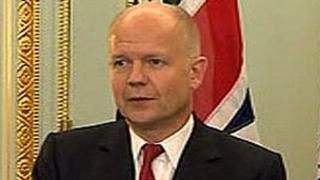 The UK government has condemned the "appalling" situation in Syria and warned of a "potential massacre" in the country's second city Aleppo.
Prime Minister David Cameron said there were "very real concerns" about "some truly appalling acts" in and around the city.
Foreign Secretary William Hague warned of the potential for "death, destruction, torture and abuse".
The US state department says it fears a massacre by Syrian government forces.
In Syria, the pro-government al-Watan newspaper warned that the "mother of all battles" was about to start.
Speaking at a news conference in London with United Nations Secretary General Ban Ki Moon, Mr Hague said it was "deeply frustrating" Russia and China had vetoed a UN Security Council resolution proposing further sanctions on Syria.
"The Assad regime is not implementing any of the proposals the UN has asked it to do," he added.
'Olympic Truce'
Referring to the Syrian regime, the foreign secretary said: "The more they do, the more we will increase the practical support we offer to opposition groups and the more we will ask other nations, including Arab nations, to isolate them."
Mr Hague and Mr Ban were speaking at an event dedicated to what is known as "the Olympic Truce", an idea that promotes conflict resolution around the world and dates back to the ancient games.
"This utterly unacceptable escalation of the conflict could lead to a devastating loss of civilian life and a humanitarian disaster. No nation should stand silent while people in Aleppo are threatened with a potential massacre," Mr Hague said.
The Truce was backed by all 193 UN member states, including Syria, Ban Ki Moon pointed out.
"I'm seriously concerned by the escalating violence in Aleppo. I urge the Syrian government to halt the offensive," he said.
Mr Ban told the BBC he had travelled to London via Sarajevo and Srebrenica, to lay flowers in memory of the 8,000 victims of the massacre there in 1995.
"It was sad and humbling for me. You cannot find any other place in the world so painful for a UN secretary general to visit. One of my successes for the future would be I don't want to have to go to Syria in 10 or 20 years to say we failed.
"I remain deeply concerned about the reports of the possible use of chemical weapons," he added.
Mr Cameron also expressed dismay at the situation in Aleppo, saying: "This regime needs to realise it is illegitimate, it is wrong, it needs to stop what it is doing and the international pressure against this regime, against Assad, is only going to build until he finally goes."
The BBC's Wyre Davies, on the Syria-Turkey border, says conditions in Aleppo are reported to be dire.
Thousands of government troops have been drafted in from other areas and are encircling the city, he says.