Samantha Cameron's experience shows Heathrow queue-busting works - PM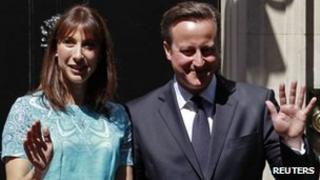 David Cameron has hailed efforts to cut queues at Heathrow - saying his wife Samantha did not even have time to get her passport out before being checked.
The prime minister said the past two weeks showed the benefits "if you really tool up" and put effort into a "real customer service ethos".
He said the aim was to do it "all the time, not just during the Olympics".
Mr Cameron was answering a question about delays to aviation expansion at a gathering of foreign business chiefs.
A government consultation on expanding airports in the south-east England was postponed for a second time earlier this month.
Many businesses, including prominent airlines, want to see a third runway built at Heathrow Airport, but the UK's governing coalition has ruled it out.
Mr Cameron said that was a "pledge we will keep", although the pledge is generally seen as lasting for the term of the current parliament, which ends in 2015.
He said: "Be in no doubt that by the end of the year we will have... this review (of aviation capacity) under way."
There would also be a call for evidence for all future options and he said he understood the importance of UK having Heathrow as a "hub status" airport.
The experience during the build-up to the Olympics - when hundreds of extra staff have been brought in to cut the immigration queues at Heathrow - showed that it was possible to have hub status and make the UK somewhere easy for business people to get in and out of, he explained.
"If you put the effort in, if you make sure there's a real customer service ethos at our major airports, I think you can improve the welcome you give people while having very important security checks," said the prime minister.
"My wife said, when she came in from a business trip from Italy she didn't even have time to put her hand in her bag to get her passport out before she was being checked," he said.
Mr Cameron's comments came on the day the home affairs select committee called for a rethink of the way immigration checks are handled at Heathrow to cut queuing times that have regularly been more than an hour for non-EU visitors.