Conservatives 'must be first on EU vote' says top adviser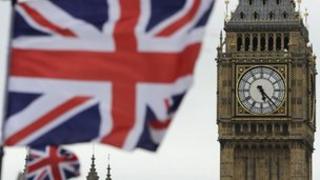 The Conservatives must be the first of the three largest Westminster parties to offer a referendum on EU membership, a senior adviser has suggested.
Lynton Crosby, who ran Boris Johnson's successful mayoral re-election campaign, told the BBC the party should pre-empt Labour in pledging a poll.
Both parties have suggested a vote of some kind on Europe could be held in the future without giving details.
More than 80 Tory MPs rebelled earlier this year in demanding a referendum.
The government has said the UK's relationship with Europe must change in response to greater economic and political integration in the eurozone.
Prime Minister David Cameron has said there may be a case for a public vote on Europe at some point but he did not believe a simple "in-out" referendum on the UK's membership was what most people wanted to see.
Mr Crosby, who ran the Conservatives' 2005 General Election campaign, told BBC Radio 4 Today's programme that all the main parties were grappling about what to do about Europe in an effort to stay in touch with public opinion which was hardening over the issue.
'Frustrated'
"People in Britain are frustrated about the behaviour of Europe and the challenges it has created in terms of Britain's own circumstance," he said.
"I think Labour will endeavour to manipulate the issue by offering a referendum and that will obviously cause the government to think how it responds."
Asked what advice he would give to ministers should this happen, Mr Crosby added: "If I was confident that Labour were going to do it, I would want to get there first."
Labour frontbencher Hilary Benn told the same programme it was right to discuss the UK's future in Europe.
"In the end, I think it will strengthen our role in Europe and our continued membership and the opportunities it gives Britain as a country."
But he said Labour should not be backing an "in-out" referendum on UK membership. "The people who should argue for that are those who actually believe we should come out."
UK Independence Party leader Nigel Farage told the same programme that he was continuing to talk to Conservative MPs disaffected about European policy about joining his party.
"On the current trajectory, I do believe MPs will cross the floor," he said.
UKIP threat
Mr Farage said much would hinge on the outcome of parliamentary boundary changes due in 2015. These could some Conservative MPs unable to stand for re-election because their seats are being abolished.
Maintaining UKIP's overall standing and doing well in the 2014 European Parliamentary elections were also important, he added. "We need to keep increasing our share in the opinion polls and the more credible we look, the more likely it becomes."
UKIP has long campaigned for the UK to leave the EU and for the public to have their say in a referendum.
One Conservative MP who backs a referendum said the party faced a real electoral threat from UKIP and needed to respond.
"I think the rise of UKIP is one of the things that is pushing the Conservative Party into making the argument for a referendum on national independence," said Mark Reckless, MP for Rochester and Strood.
"We need to get those people from UKIP behind the Conservative Party if we are going to get a majority and deliver that referendum."
The government announced earlier this month it would be conducting a comprehensive audit of the impact of European Union law on Britain.