UK backs EU moves to lift more Zimbabwe sanctions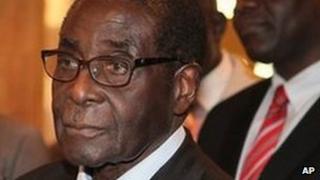 The UK backs EU moves to lift more sanctions on Zimbabwe to encourage free and fair elections, a foreign office minister has told the BBC.
Henry Bellingham said the "conditional" suspension would be a "big step".
And it would depend on "a really credible referendum" on reforms being held before elections next year.
EU ministers meet on Monday to decide whether to lift bans on direct cash aid for the Zimbabwe government, as well as visa and asset curbs.
Mr Bellingham said the UK was keen to show support for moves by the Southern Africa Development Community (SADC) to ease pressure on Zimbabwe.
He said: "If we get agreement in the EU, it will be a conditional suspension, not of all the measures but a very large number of them, sending a very strong signal that because SADC has made positive moves in terms of Zimbabwe then the EU will respond."
The EU has already lifted some of its sanctions against top Zimbabwean officials, to support what it said was the power-sharing government's "significant progress" on tackling the country's economic crisis.
President Robert Mugabe and more than 100 key members of his inner circle remain the subject of restrictions, which include asset freezes and bans on travelling to European countries.
The Foreign Office has said the restrictions on Mr Mugabe must remain in place.