William Hague: No impunity for Syria criminals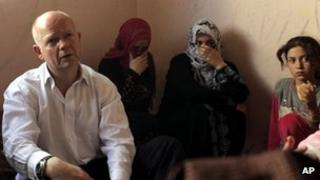 William Hague has said there can be "no impunity" for people committing human rights abuses in Syria, as he visited a refugee camp for people who have escaped the conflict.
The foreign secretary said following orders did not "absolve" officials and others of responsibility for crimes.
He visited the Bashabsheh refugee camp in Jordan, near the border with Syria, where thousands of people have fled.
The Red Cross has described the situation in Syria as a "civil war".
The uprising against the government of President Bashar al-Assad began 18 months ago, and the United Nations estimates more than 16,000 people have died.
Violence is said to be intensifying, with fighting reported between the forces of President Assad and rebel groups in the capital Damascus.
Jordan is currently hosting 140,000 Syrian refugees, and that number is increasing daily.
'Bloodshed'
Mr Hague said the UK would be increasing its support for those documenting crimes against civilians.
It would train and equip an additional 20 Syrian human-rights activists to join 47 trained earlier this year who had been gathering evidence for the United Nations since April, he added.
Mr Hague said the 50-year sentence handed to former Liberian President Charles Taylor and the 14-year term given to Congolese war criminal Thomas Lubanga should act as warnings to those committing atrocities in Syria.
He said: "Today I have seen first-hand the terrible price being paid by the Syrian people and heard harrowing accounts of how they have suffered. It is more clear than ever that we must work to ensure that there is no impunity for those committing violations and abuses in Syria.
"They must understand that their actions have consequences, that acting on behalf of the regime does not absolve them of responsibility, and that we are committed to doing all that we can to hold them to account."
Mr Hague also said the UN Security Council should pass a resolution to implement the peace plan created by former UN Secretary General Kofi Annan, which includes setting up a transitional government.
He warned China and Russia, which have previously vetoed sanctions, that, unless they changed policy, "they will be held increasingly responsible for the consequences, for that chaos and bloodshed that is even now becoming worse in Syria".
He added: "I hope that in Moscow and Beijing, they will take greater note of the scale of the bloodshed, the need to bring it to an end and the desperate situation of the sort of people that we met at the Syrian border today."