Border staff 'being cut too fast'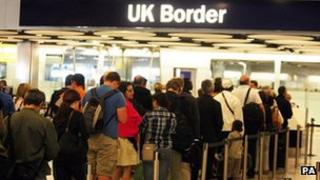 The UK Border Agency has laid off 1,000 more staff than intended and is having to hire extra people and increase overtime to meet its workload, Whitehall's spending watchdog says.
The National Audit Office found the organisation had not slowed cuts even though the introduction of an automated immigration system had run late.
More people than expected wanted to leave the UKBA, it added.
But the government said it had "overhauled" much of the UKBA's work.
In February, the UKBA was split in two following revelations that hundreds of thousands of people were let into the country without appropriate checks.
Home Secretary Theresa May said the UK Border Force would become a separate law-enforcement body with its own distinctive "ethos".
'Slipped'
The National Audit Office, whose report mainly covers the period before the split, found that 22,580 staff had been employed by the UKBA, including the Border Force, in April last year. This had dropped to 20,469 by April this year.
It said: "In 2011-12, the agency's workforce reduced by over 1,000 more than planned, despite the fact that progress was slower than expected in the ICW [immigration casework] programme and workforce modernisation at the border, and no agency-wide skills strategy was yet in place."
The £385m automated system had encountered "significant problems" and had "slipped by a year and is over budget", the audit office said.
Despite less being delivered than expected, the system was £28m over its £224m budget by the end of March and overall expected savings had been revised down to £106m.
The report added: "The result of this disconnect was, in some places, a dip in performance and the need to hire new staff or increase overtime."
Some 540 requirements, previously described as "must haves", had been removed or postponed in the latest version of the system, leading to limitations, including customers not being able to track their applications online.
'More focused'
Further staff reductions before systems such as the ICW programme were implemented "may impact negatively on performance", the watchdog said.
The report added: "Loss of focus, poor governance and a tendency towards optimism bias in planning, delivery and reporting, have contributed to the current problems."
For Labour, shadow immigration minister Chris Bryant said: "As a result of this huge reduction and with cuts set to continue, relief staff are being drafted into airports such as Heathrow and Stansted, being paid overtime, being given travel and subsistence expenses and accommodation in local hotels, in some cases 4-star hotels, to shore up our borders."
He added: "The home secretary now has some very serious questions to answer: how can she justify this cost to the taxpayer?
"Why is she continuing to cut the number of staff at UKBA and Border Force when both agencies are at breaking point?"
A Home Office spokesman said: "We're under no illusions about the scale of the challenge in transforming the UK Border Agency and Border Force and we have already saved huge sums of taxpayers' money, overhauled our business planning and improved performance in key areas of our work.
"Both organisations have now been reorganised into smaller, more focused agencies capable of delivering the further improvements that the public expects and deserves to see."